2022 Draw Release
Wednesday, December 1, 2021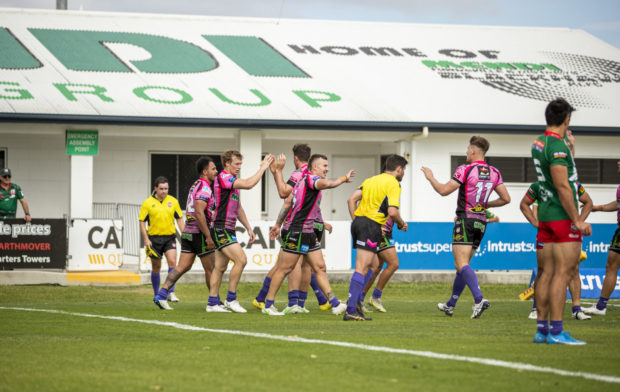 The Mendi Blackhawks kick off the 2022 against the 2021 Premiers, Norths Devils on Sunday March 20.  Photo Alix Sweeney
BLACKHAWKS & QRL MEDIA
The Queensland Rugby League has released the 2022 Hostplus Draw (formerly Intrust Super Cup), with the Mendi Blackhawks starting their campaign at home for the first three rounds.
"We need to be at our best from the start," Football Operations Manager Adrian Thomson said.
"We play the top 5 teams of this year in the first six rounds, including the premiers Norths in round 1 to kick things off and then again in round 20 to finish."
"There is no easy game in this competition, so it doesn't matter when you play each team."
"We all adapted well this past season, with disruptions, only missing a few rounds, but people just got on with it and that's what we have to do again this coming season, just get on with it."
Townsville being a garrison town, has been fortunate enough to secure a home game on the ANZAC weekend.
"Every year our first request is always the ANZAC round at home," Thomson said.
"Once again, we were lucky enough to get that game against Tweed, which is always good game."
The Mendi Blackhawks have also secured one, possibly two home Friday night home games, for only the second time.
One against against the PNG Hunters in round 8, and the second possible Friday night game is round 3, August 2-3 which coincides with the Laurie Spina Shield, a massive weekend of footy in Townsville.
"We haven't played the PNG Hunters at home for a couple of seasons, and they always draw a large crowd, so that will be a big occasion for us."
QRL competitions manager Dave Maiden is expecting another fiercely-fought competition in 2022.
"Keeping the season going in 2021 was a terrific team effort that gives us great momentum heading into the new year," Maiden said.
"It's exciting to see all clubs back in training and preparing for the upcoming season, which will be played over 20 rounds with rounds six and seven to be split over two weekends."
Maiden said the semi-finals would commence on the weekend of September 3-4 with the grand final to be played at Moreton Daily Stadium on September 25.
There will be a number of feature rounds throughout the season, including Activate! Queensland Country Week, the Multicultural Round (celebrating Harmony Week), XXXX Rivalry Round, Harvey Norman Women in League Round, Respectful Behaviours Round and Turn to Me Round.