"Sky's the Limit" Launched for 2021
Tuesday, March 16, 2021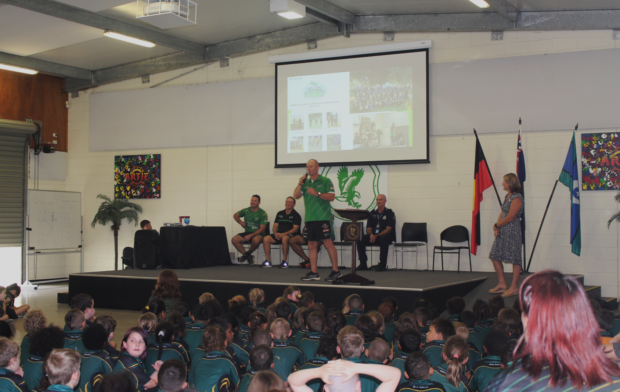 BLACKHAWKS MEDIA
Continuing the success of "Sky's The Limit", the Mendi Blackhawks have relaunched the program for 2021.
Speaking from Rasmussen School, "Sky's the Limit" Program Co-ordinator Tim Nugent announced the program would be expanding in 2021.
"Originally the program started off in three Townsville schools, and this year we are thrilled to welcome Shalom Christian College on board," Nugent said.
"This is our fifth year of the program and we are continually seeing positive changes in the students."
Run in conjunction with the Queensland Police Service, the "Sky's the Limit" program provides positive mentoring to predominantly grades 3-4 primary school students and topics are designed to help increase students school attendance, promote healthy diet and exercise and as well as sport based written activities and more.
"Some of the students had a 40% attendance record when they began the program, now we are seeing the same students up to around the 90% rate, and we are very proud to be a part of this shift."
The program is run before school once a week with Mendi Blackhawks staff, some players and members of the Queensland Police Service attending.
"Creating partnerships between the students, teachers, Mendi Blackhawks and the Queensland Police is really important," Nugent said.
"We are able to form real relationships and build trust, then the students begin to talk to more to us and we provide advice and support as required."
"Each morning we begin with going through the students work book, then discuss what they hope to achieve for that week, and if they have any problems they wish to share with us."
"We finish each session with some fun games, to make sure we finish on a high note."
"The program has delivered real results with re-engagement of kids in school, which we are very proud of."
"Our aim is to continue and grow the program to as many kids as we can in our area."
The "Sky's the Limit" program runs during terms 2 and 3 and is followed by a fun break up day to finish the year off.
Some of the students displaying positive changes are also rewarded with a Mendi Blackhawks special Game Day Experience.