RD 7 Magpies Too Strong for Blackhawks
Wednesday, May 3, 2023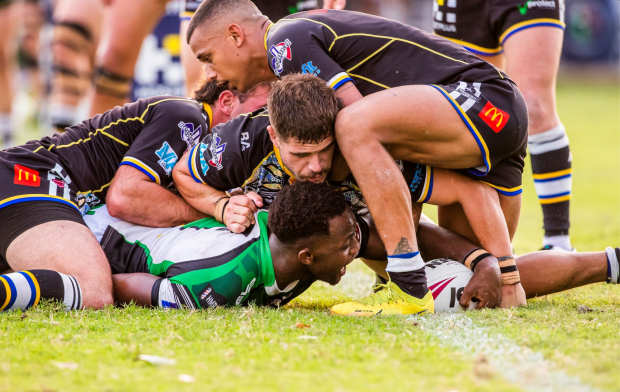 Photo Alix Sweeney – Marly Bitunagne scores for the Blackhawks
AMELIA PATTEL – BLACKHAWKS MEDIA
The Mendi Blackhawks host the South Logan Magpies for round 7 of the Hostplus Cup at Jack Manski Oval.
The Blackhawks are hoping to bounce back after last weeks close loss to Tweed Seagulls.
Magpies opened the scoring early with Hooker Blake Mozer diving under the sticks and the conversion attempt from Jack Campagnolo was successful.
A try in the corner just before halftime to Jack Smith gave the Magpies a handy lead going into the break with the conversion unsuccessful.
The halftime score stood at 10-0 in favour of the away side.
Campagnolo was able to extend the Magpies lead after converting a penalty goal, getting the first points of the second half.
Magpies extended their lead with Campagnolo's chip and chase to score with him also being able to convert the extras.
Blackhawks halfback Thomas Duffy left the field during the second half and did not return to complete the game.
Magpies Benjamin Te Kura was too strong for the Blackhawks defence to stop as he crashed over the line and the conversion was successful.
Blackhawks finally crossed over through a strong run by Marly Bitungane and the conversion by Zac Laybutt was unsuccessful.
Magpies Logan Bayliss-Brown scored under the posts to further extend his teams lead and the conversion was successful.
The final result was 30-4 with South Logan Magpies coming away the winners of the match.
To add to the loss, the Blackhawks also saw Marly Bitungane and Jodeci Baker-Tiraha placed on report.
The Blackhawks will travel to Brisbane to battle it out against the Tigers.
The Blackhawks next home game will be May 12th against the PNG Hunters.