Mendi Blackhawks Secure Round 1 Win Over Falcons
Monday, March 13, 2023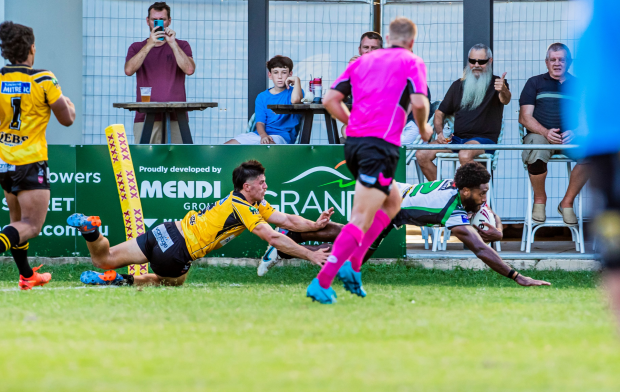 Laitia Moceidreke scores in the corner to secure the win for the Mendi Blackhawks in Round 1 of the Hostplus Cup.  Photo Alix Sweeney
AMELIA PATTEL – BLACKHAWKS MEDIA
The Mendi Blackhawks host the Sunshine Coast Falcons for the first round of the 2023 Hostplus Cup season at Jack Manski Oval.
The last time these two sides clashed, the Sunshine Coast Falcons got the two point with a  28-18 win in round 13 of the 2022 season.
Strong defence and multiple handling errors from both sides saw a drought of points for majority of the first half.
The Sunshine Coast Falcons opened up the scoring for the afternoon with Sualauvi Faalogo scoring in the 30th minute after going through a gap in the oppositions defence and Jai Smoothy's conversion was successful.
The Mendi Blackhawks hit back with a try through Robert Derby and Thomas Duffy was unable to lock the scores.
A penalty goal on the stroke of half time allowed the Sunshine Coast Falcons to extend their lead with Sualauvi Faalogo adding the extra points.
The first half finished in favour of the Sunshine Coast Falcons the score sitting at 8-4.
The second half started off with the Mendi Blackhawks getting and Early try as an overlap saw Robert Derby score his second try and the conversion was successful by Duffy, giving the home team the lead.
After forcing an error, the Mendi Blackhawks were able to score through fullback Jordan Lipp and Duffy was able to extend his teams lead.
Sualauvi Faalogo scored in the corner for the Sunshine Coast Falcons, finishing off a length of the field try and Faalogo was able to convert his own try, closing the gap.
The Sunshine Coast Falcons took the lead through Jayden Nikorima scoring after a loose carry from the opposition and Smoothy missed the conversion.
The Blackhawks were able to secure the win through Laitia Moceidreke who scored in the corner and Duffy was able to convert from the sideline.
The final score was 22-18 with the Mendi Blackhawks getting the two points in front of their home crowd.
Sunshine Coast Falcons suffered an injury in the first half as Jack Gibbons left the field due to a head knock and did not return.
The Mendi Blackhawks will have another home game as they host the Central
Queensland Capras for the round 2 clash.
The Sunshine Coast Falcons will have another away as they play the Ipswich Jets for round 2.
The Mendi Blackhawks had 9 players make their debut, congratulations to the following players 🖤🚁💚
119 – Jayden Hodges
120 – Laitia Moceidreke
121 – Gehamat Shibasaki
122 – Brendan Elliot
123 – Robert Derby
124 – Tom Duffy
125 – Jai Hansen
126 – Emarly Bitungane
127 – Sylvester Namo