U21 Mendi Blakchawks Defeat Redcliffe Dolphins in Week 1 of the Finals
Saturday, September 3, 2022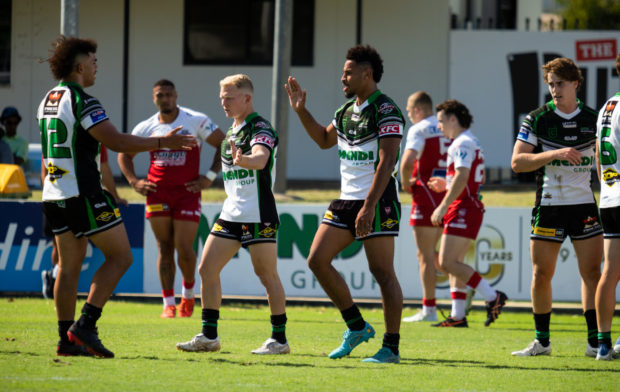 The Mendi Blackhawks U21s are off to the Preliminary Finals.  Photo Robbie Bolton
Amelia Pattel – Blackhawks Media
In the first week of finals football in the Hasting Deering Colts competition, the Mendi Blackhawks hosted the Redcliffe Dolphins at Jack Manski Oval.
The last times these two sides met was in round 13 were the Mendi Blackhawks won by a field goal after a halftime comeback.
The Mendi Blackhawks got the first points through halfback Thomas Duffy as he weaved through defenders to get over the line and Dylan White's kick was successful, giving his team an early lead.
Thomas Duffy quickly got a double in the space of two minutes after Jesse Yallop had a break down the sideline.
Mendi Blackhawks kept the intensity as Ragarive Wavik scored in the corner to break through a tired Dolphins defence.
Dolphins Chayse Cavanagh left the field for a head injury assessment in the backend of the first half from heavy contact in a tackle.
Ali Leiataua was able to put points on the board for Redcliffe and the conversion attempt by Will Cahill was unsuccessful.
The Dolphins were able to close the margin as Ali Leiataua scooped up a grubber to score, grabbing a double and the conversion was successful.
The Blackhawks were able to swing the momentum after forcing an error off the kick-off and giving captain Zac Laybutt a chance to score at the ending of the first half.
The halftime score stood at 18-10 in favour of the Mendi Blackhawks.
The Dolphins scored the opening try for the second half through Will Cahill who ran through the defensive line and the conversion was successful.
The Mendi Blackhawks answered back through Jai Hansen scoring under the posts and the conversion was successful.
The Dolphins found an overlap for Marcus Spence score in the corner and the conversion attempt was unsuccessful.
The Mendi Blackhawks Jordan Lipp made the Dolphins pay for a loose ball, catching an intercept and running over half the field, pushing the home teams lead and the conversion as successful.
The Dolphins threw plenty at the Blackhawks, but strong defence proved to be the difference.
Mendi Blackhawks Marly Bitungane beat the tackles from his opposition scoring in the 77th minutes of the game, sealing the win for his team.
The final score concluded at 36-20 with the Mendi Blackhawks taking the victory.
The Blackhawks have a break next week before the preliminary game the following week.