Asi Aims To Make Up For Lost Time In The Black And Green
Monday, August 8, 2022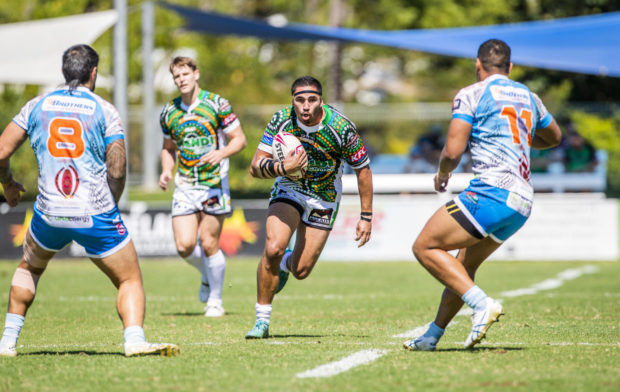 Andrew Niemoeller made his return to the playing field after 1238 days.  Photo Alix Sweeney
NATHAN FERGUSON – BLACKHAWKS MEDIA
After ending a 1238 day drought between Hostplus Cup appearances, in the Mendi Blackhawks battle with the Pride, Andrew 'Asi' Niemoeller's not taking anything for granted, despite holding his spot in Townsville's team.
A knee issue halted his 2019 season before it had barely begun, more injuries followed for the then captain.
"Initially we thought it was bone bruising, the whole year we waited for it to get better, but then found my Illio-tibial band out was a little bit tight as well so I had a clean out of my knee," Niemoeller said.
"Coming back from that the following year, I had problems with my shoulder, dislocated it three times, and then ended up having surgery last year."
Countless Rehabs and individual exercises over a three year period weren't always in isolation.
He became a new leader… Of the injured brigade… But teammates came and went.
"I liked to think of myself as the captain of the injured squad."
"Yeah it gets lonely sometimes, it was a physical battle but also a mental one with all the injuries. I never really thought about giving up, that's just my nature. I just took it on the chin and kept working hard."
Fast forward to the club's final home match this year and Asi's inspirational road to recovery was complete.
Catapulted to the starting line up, in grudge game, no less.
The lock dealt with a flood of emotions and nerves ahead of running out at Jack Manski Oval, Northern may have won but Andrew's own derby delight was evident, albeit bittersweet.
"I had butterflies in my stomach as soon as Aaron told me I would be playing."
"On game day I tried to just focus on what I needed to do for the team, and my job."
"The first run, first tackle, you're into it so all the nerves went out the window after that."
"I was a bit sore after but just to stoked to get through it. It would have been better if we'd got the win obviously."
More minutes will be expected from him in the remaining rounds, with the Mendi Blackhawks fighting for a top eight spot and trying to keep their 100% finals appearance record intact.
"I really appreciate the club for keeping me around; I don't really have any family here and it's like a big family to me."
"My main priority now is just to try and get some wins with the team. We know we can be going better than what we are."