RD 17 Results: Mendi Blackhawks Face Tough Loss at Home to in Form Pride
Saturday, August 6, 2022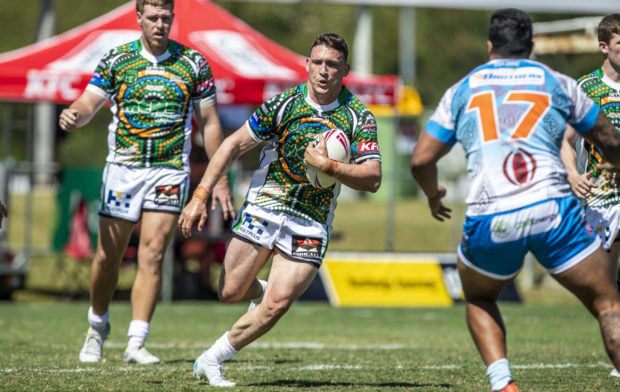 Cade Maloney takes a hit for the Mendi Blackhawks in Round 17 of the Hostplus Cup.  Photo Alix Sweeney
AMELIA PATTEL – BLACKHAWKS MEDIA
For the round 17 match up, the Mendi Blackhawks take on Northern Pride for their last home game of 2022 in the XXXX Rivalry Round – The Rematch.
Both teams were desperate to break into the top 8 with only a few rounds remaining and each side is sitting equal on 17 points.
This game would mark the return of Mendi Blackhawks player Andrew Niemoeller to Hostplus Cup who has spent the last 1238 days on the sideline due to injury.
But it was the visitors that opened the scoring for the match first through Will Partridge who found space due to an overlap and was able to convert his own try.
Pride were able to extend their lead as Nick Lui-Toso found a gap in the home team's defence and crashed over the white stripe, but the conversion was unsuccessful.
The Mendi Blackhawks were able to put their names on the board through a Robert Lui kick that landed in the hands of Emry Pere to put down and the kick by Zac Laybutt was successful.
Northern Pride went in into the break with the lead, the score sitting at 10-6.
The Mendi Blackhawks came out firing in the second half with Kalifia Faifai-Loa diving in the corner to score, finishing off a backline play but the conversion was unsuccessful.
Pride were able to hit back as Will Partridge scored an intercept try, running the length of the field with the opposition in pursuit to score his second try of the afternoon and the conversion was successful.
Pride kept up their intensity with Ewan Moore reaching out over the line to score whilst stuck in a tackle and the kick was successful.
With a block of over 20 minutes that saw no scoring, the Mendi Blackhawks showed desperate attempts to break through the Pride's defence to initiate a comeback but were unable to find an opening to do so.
The final score was 22-10 in favour of the away side.
"I'm happy with the win, but I still think we are 10-15% off our game," Coach of the Northern Pride Ty Williams said.
"A win is a win and we are pretty excited but we still have a fair bit to work on."
"We knew it was an important game, both on equal points, and the way we hung in there was good."
Captain Josh Chudleigh said the team struggled to build pressure.
"We let them out of their end too easily and struggled to build pressure," Chudleigh said.
"And thats what we needed to do especially on the back of scored points."
"We panicked too much when we got to the try line and unfortunately it just didn't come together for us."
The Mendi Blackhawks will play the PNG Hunters in round 18 at Bycroft Oval.
Northern Pride will host Tweed Seagulls at Barlow Park for the round 18 fixture.