RD 16 Results: Townsville and Redcliffe Play Out Thrilling Draw in Ayr
Monday, July 25, 2022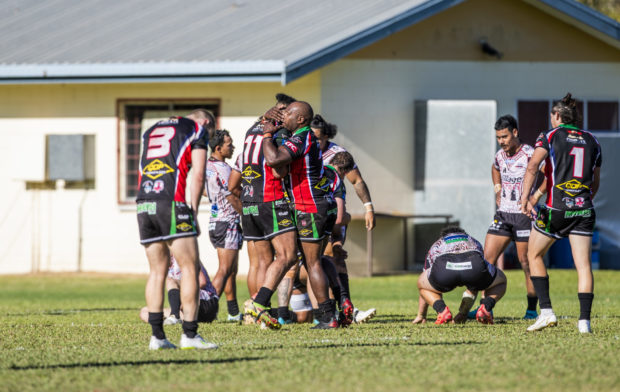 The Mendi Blackhawks and Redcliffe Dolphins score couldn't be separated finishing in a 22 all draw in Ayr for the 2022 Country Week.  Photo Alix Sweeney
NATHAN FERGUSON – BLACKHAWKS MEDIA
A big crowd gathered at Rugby Park in Ayr for the country clash between the Dolphins and Blackhawks.
Townsville lost Joe Boyce to injury after just five minutes before Pat Kaufusi was placed on report and sent to the sin bin for a late tackle on the kicker.
The Dolphins capitalised, claiming the game's first points through Jeremiah Simbiken, on the 20 minute mark.
Townsville playmaker Shaun Nona forced a drop out shortly after and the Blackhawks took advantage of an extra attacking set. Daniela Sadrugu forced his way over from close range, Nona's conversion put them in front.
But Redcliffe went to half time in front after Jeremiah Simbiken scored his second try just before the break. The back rower running a nice line off a short ball.
The Mendi Blackhawks took just two minutes to open the scoring in the second half. Robert Lui's long ball found Zac Laybutt in space and the centre skipped over the try line to make it 10-8.
Redcliffe hit back immediately through centre Rocco Berry but Bryce Donovan missed his third consecutive conversion attempt and the margin was 2 points.
Redcliffe became the first team to score back to back tries, winger Setu Tu tip toed down the sideline and fullback Trae Faller found himself on the end of some slick passing back inside. Donovan's kick made it 10-18.
Townsville's Taniella Sadrugu scored his second try of the game, going over again from close range just before the hour mark, and Shaun Nona's slotted the etxras.
The Mendi Blackhawks pushed for the lead but a grubber fell to the feet of Valynce Mikaeri Crosby-Te Whare and he went the length of the field for Redcliffe but another missed conversion meant the sides were separated by just a converted try.
The Mendi Blackhawks scored in the 75th minute after winger Jordan Lipp dashed down the touchline before kicking infield for chasers in black and green. Jake Bourke dived on the ball under the post giving Shaun Nona the easiest of tasks to lock things up.
Cody Hunter had a chance to put the Dolphins back in front in the final minute but his field goal attempt missed, giving the Blackhawks 7 tackles to try and get in position to have a shot of their own.
Townsville received a penalty forty metres out and Shaun Nona Stepped up to try and seal the win. However his kick drifted wide and the game ended in a 22 all draw.
Next week we have a bye round, then return to Jack Manski Oval on August 6 for our final home game of 2022 against the Northern Pride.