Blackhawks Development Tour to Coincide with Country Week
Wednesday, July 20, 2022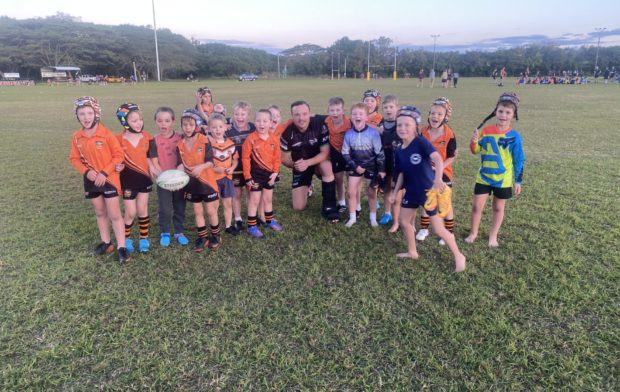 Jaelen Feeney (centre) with junior players from the Herbert River Crushers.  Photo Blackhawks Media
BLACKHAWKS MEDIA
Coinciding with the Hostplus Cups 2022 Activate Queensland Country Week, the Townsville and Districts Mendi Blackhawks development team have been out in our community visiting regional junior Rugby League clubs and schools.
Development Officer Tim Nugent said the visits were an important factor for the Mendi Blackhawks.
"We love heading out to the regional clubs in our community," Nugent said.
"Some of the activities we do with the juniors include development clinics, fun skills and drills as well as coaching updates for the coach's."
So far the team have visited the Herbert River Crushers, Queens Beach State School, the Bowen Seagulls JRLC and the Bowen State High School.
Visits will continue this weekend in Ayr, the venue for the Mendi Blackhawks and Redcliffe Dolphins clash.
Kick off is 3pm from the Burdekin Rugby League Park.
Prior to the game on Friday night, the Burdekin Roosters will be auctioning off 4 jerseys worn by the Mendi Blackhawks, which feature the Burdekin bridge on the chest and the red, white and blue colours of the club.