RD 12 Results: Mendi Blackhawks Take the Two At Home
Saturday, June 18, 2022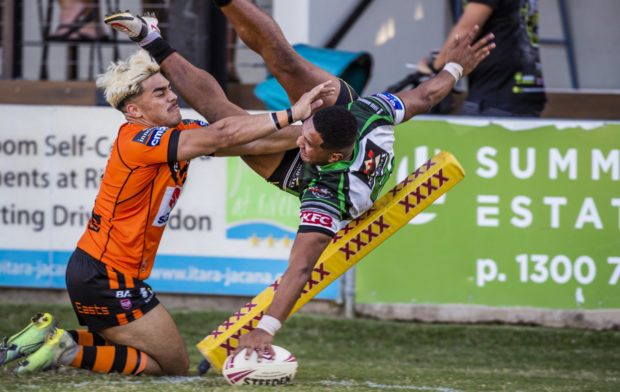 Kalifa Faifai-Loa scores in spectacular fashion for the Mendi Blackhawks.  Photo Alix Sweeney
AMELIA PATTEL – BLACKHAWKS MEDIA
The Mendi Blackhawks are back in the winning circle defeating the Brisbane Tigers 30-18 at home in the round 12 Hostplus Cup match up.
With both sides not having a win in the past two rounds, pressure is building as the teams are fighting to secure safe spots in the top 8 as the season begins to close out.
The first try of the evening was scored by Mendi Blackhawks Joe Boyce as he crashed over the line and charging through defence to get on the board with Shaun Nona's kick successful.
An intercept by Justin Frain allowed the Mendi Blackhawks to gain perfect field position to score points and Kalifa Faifai-Loa dove over the try line to score in spectacular fashion. The conversion by Nona was successful.
The Tigers opened their scoring through George Fai as he was too strong to hold up over the line and the conversion from Bessie Toomaga was successful.
The defensive efforts from the Mendi Blackhawks were rewarded with a try by Iosefo Baleiwairiki as he caught a cut out ball to score in the corner and the kick from Shaun Nona was successful.
The halftime score stood at 18-6 in favour of the Mendi Blackhawks.
With a very physical first half, the remaining 40 minutes were expected to have the same intensity as the players came out firing, desperate to shut out the other team.
The Mendi Blackhawks scored first through Zac Laybutt as he slipped through a gap to score and Nona's kick was successful. This was Laybutt's first try in the Hostplus Cup.
D'Jazhirhae (Mia) Pua'avase scored in his first ever Mendi Blackhawks home game, catching an inside ball from Tomas Chester to fool his defence and Nona continued his perfect kicking streak by adding the extras.
With the Mendi Blackhawks having several sets of defence, the Tigers were able to score a try as Bessie Toomaga dove on a grubber and he was able to convert his own try.
Darren Nicholls scored for the Tigers off a kick where he went through the defensive line untouched and the kick was successful.
The game concluded with a score of 30-18 with the Mendi Blackhawks taking the points.
Adding to the loss for the Tigers, a collision in the first half saw Alec MacDonald leave the field for a head injury assessment and he did not return for rest of the game.
The Mendi Blackhawks will play the Sunshine Coast Falcons in round 14 at Sunshine Coast Stadium.
The Brisbane Tigers will host the Redcliffe Dolphins for round 14.