U21s RD 6 Results
Monday, May 30, 2022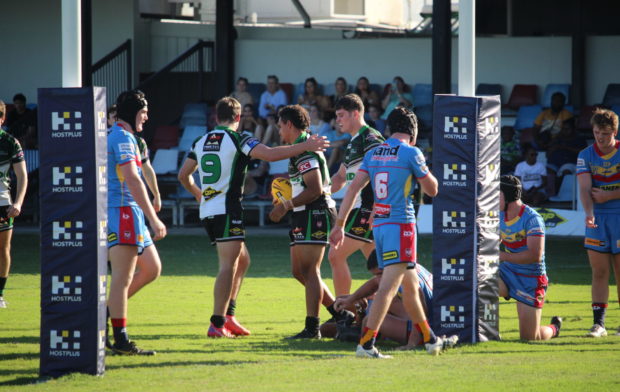 BLACKHAWKS MEDIA
The Townsville Mendi Blackhawks U21s have defeated the Western Clydesdales a 88-12 at Jack Manski Oval for round 6 of the Hastings Deering Colts.
It was an early start for the visitors, on what was originally set down to be played on May 14, the game was postponed due to torrential rain in Queensland South making some Clydesdales players unavailable.
Wil Latu opened the floodgates scoring in the first minute of the game, as the home team scored a whopping 16 tries to the Clydesdales 2.
Dylan White's kicking boot was calling for an interchange, kicking a 12/16 conversion attempts as well as scoring a try.
A number of the Mendi Blackhawks played scored multiple tries, including impressive star winger Jacob Mene scoring 4 tries and Matua Robinson on the opposite wing bagging a triple.
The visitors looked to be making a comeback, scoring 2 quick tries in succession, in the 56th and 59th minutes of the game, but they was diffused as they home team regained possession to finish the game.
Coach of the Mendi Blackhawks U21s Steve Sheppard praised his team for their professionalism on the field.
The team is back at Jack Manksi Oval next Saturday against the Mackay Cutters, prior to the Hostplus Game.
MENDI BLACKHAWKS
TRIES 16:   
William Latu 1′
Edward Hampson 4′
Jacob MENE 9′
Jacob MENE 12′
Zac Laybutt 18′
Cameron Bateup 22′
Tyson Chase 25′
Jai Hansen 29′
Dylan White 32′
William Latu 34′
Matua Robinson 41′
Matua Robinson 51′
Tyreice Baira-Gela 64′
Jacob MENE 68′
Jacob MENE 71′
Matua Robinson 74′
CONV: Dylan White 12/16
WESTERN CLYDESDALES
TRIES 2: 
Oliver Bichel 56′
Oliver Bichel 59′
CONV: Elliott Speed 2/2