Hunters Take Down Blackhawks with Heroic Comeback
Friday, May 13, 2022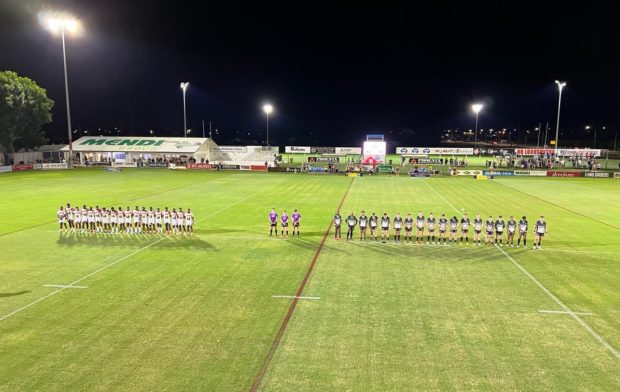 Mendi Blackhawks and PNG Hunters clashed for round 8 of the Hostplus Cup.  Photo Blackhawks Media
AMELIA PATTEL – BLACKHAWKS MEDIA
The Mendi Blackhawks hosted the PNG Hunters for the beginning of the round 8 fixtures.
Jack Manski welcomed back the Hunters for the first time in 3 years since their last match up.
A bad blow at the start of the match for the Mendi Blackhawks with skipper Josh Chudleigh injuring his shoulder.
The hosts managed to score the first try through Jaelen Feeney as he dived on a Robert Lui grubber.
The Hunters hit back with a try of their own from a kick through Matthew Jesse diving on a loose ball.
The Hunters hit the front when prop Sylvester Namo charged over from close range.
The Mendi Blackhawks wrestled back over the advantage after Jaelen Feeney's cut out ball landed on the chest of Jordan Lipp.
The wingers sideline try was converted by Michael Bell, leaving the half time score at 12-10.
The Hunters were quick to jump to the lead in the second half through Anthony Worot and went back-to-back off the Mendi Blackhawks kick off after Brandon Nima finished a length of the field try, scooping up Terry Wapi's grubber.
Mendi Blackhawks five-eighth Aaron Moore put his team back on the board as he ducked under a tackle to score close the line.
PNG powered to more points when Emmanuel Waine broke through the line and offloaded to Sylvester Namo for his double.
PNG winger Solo Wane added to the visitors lead when he crossed over in the corner.
Taniela Sadrugu scored a consolation try for the Mendi Blackhawks when he caught the defence napping from a quick tap off a penalty.
PNG crossed for the game's final try when Tyler Han capitalised on tired defence.
The Hunters celebrated their 42-20 with a strong supporter base at Jack Manski Oval.
PNG coach Matt Church said "The boys really respond to playing in front of a big crowd because it's what they're used to playing at home. So whenever we have a big crowd, we genuinely put on a good performance and it was a really good turnout from everyone in Townsville. And the boys were happy to celebrate with our passionate fans".
MENDI BLACKHAWKS TRIES:
Jaelen Feeney 3′
Jordan Lipp 27′
Aaron Moore 51′
Taniela Sadrugu 74′
PNG HUNTERS TRIES:
Matthew Jesse 16′
Sylvester Namo 22′
Anthony Worot 44′
Brandon Nima 46′
Sylvester Namo 62′
Solo Wane 67′
Emmanuel Waine 70′
Tyler Han 77′
Townsville Blackhawks conversions:
Michael Bell 5′
Michael Bell 29′
Papua New Guinea Hunters conversions:
Kingstimer Paraia 23′
Kingstimer Paraia 45′
Kingstimer Paraia 48′
Mark Tony 63′
Kingstimer Paraia 72′
Next week the Mendi Blackhawks head to Ipswich to take on the Jets, Saturday 3pm.