RD 6 One Point Thriller Over the Dolphins
Tuesday, May 3, 2022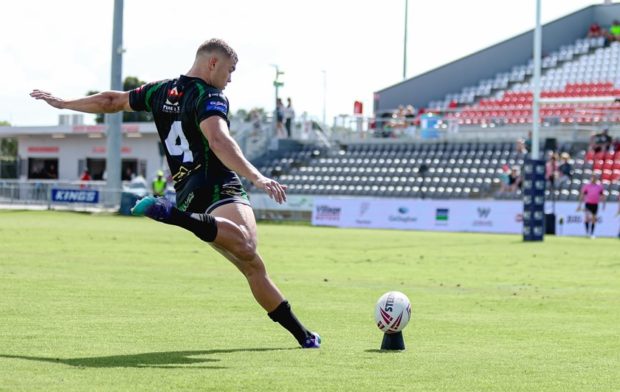 Michael Bell's boot sealed the win for the Mendi Blackhawks in round 6 of the Hostplus Cup. Photo Eric Lucero
BLACKHAWKS MEDIA
It was a one point thriller at Moreton Daily Stadium on Saturday as the Mendi Blackhawks eventual winners 29-28.
The visitors were left shaking their heads as the Dolphins scored four tries in the first 27 minutes of the game.
But it was the Captain Josh Chudleigh who commenced the Blackhawks comeback, scoring a show and go try in the 32nd minute.
Michael Bell followed up his captains try a couple of minutes later, backing up Jaelen Feeney who found space with a Rob Lui quick pass.
This was the first of two tries for Michael Bell who through his boot also kicked four conversions and the winning field goal in the 78th minute.
The teams went into the break with the Dolphins up 22-12.
After the break first points went to the Mendi Blackhawks with two tries to Taniela Sadrugu and Iosefo Baleiwairikim giving them the lead for the first time in the game.
Redcliffe levelled the game with ten minutes to go, with Bell's field goal sealing the game.
The crowd at Moreton Daily Stadium certainly got their money worth with three blockbuster games in a row all ending in field goal wins.
The next game played at Moreton Daily Stadium was the New Zealand Warriors and Canberra Raiders with Shaun Johnson sealing the win for the Warriors in extra time.
The third and final game of the day was our Mendi Blackhawks U21s in the Hastings Deering Colts with the talented Jake Bourke sealed the win 13-12.
Tries to Ragarive Wavik, Zac Laybutt and Jacob Mene, put the visitors in front but the Redcliffe Dolphins were able to level the game through a conversion and penalty kick.
The win keeps the team on top of the Hastings Deering Colts ladder.
Both teams have a bye this weekend then take on the PNG Hunters in a Friday night blockbuster at Jack Manski Oval on May 13.
The U21s next game is against the Western Clydesdales at home on Saturday May 14.
PHOTOS COURTESY OF ERIC LUCERO
Hostplus Cup
U21s