U18s Grand Final Results
Sunday, May 1, 2022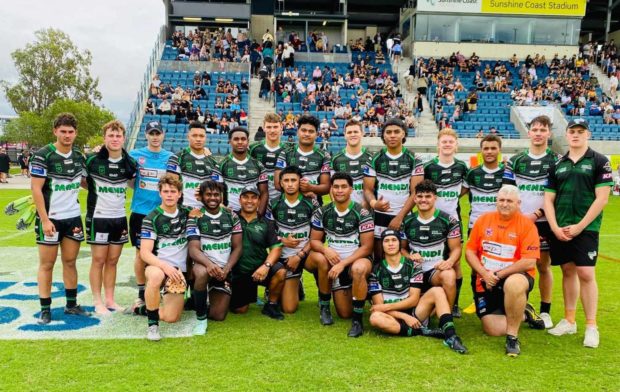 The Mendi Blackhawks U18s went down to the Souths Logan Magpies in the 2022 Auswide Bank Mal Meninga Cup grand final. Photo Blackhawks Media
Michael Nunn, QRL Correspondent
Sun 1 May 2022
The Auswide Bank Mal Meninga Cup grand final was a thrilling affair, but in the end it was the team in black, white and grey that took home the title 38-26.
Souths Logan Magpies proved too strong for Townsville Mendi Blackhawks and started well with great defence and their middles was great in attack with Jye Gray, Blake Mozer and Chris Faagutu performing well, with calm coolness under pressure.
Souths Logan's first defensive set was a statement set and it said this game was going to be played with a great intensity.
When Townsville were down in attacking areas, it was Magpies hooker Mozer – the player of the match – who got off his line and forced an error.
It took 15 minutes before any points were scored, but once the first try came, it was followed by a flood of four-pointers.
Souths started the better and scored the first two tries through the good work of that man Mozer, the first when he jumped out of dummy half when the close-in defenders became fragmented and found Faagutu on his right to barge his way over.
It was Mozer again who assisted with the second try when he went to dummy half and took off in search of gaps and came out the other side, and on his inside was Gray who run away to score.
The Mendi Blackhawks came back, and scored their first try through winger Tekelu Mene, hugging the sideline cashing in with the Blackhawks first points.
The teams went into half time with the Magpies leading 26-6.
One minute into the second half, Mozer picked up a grenade on the ground scooped it up and ran 30 metres to score and give the Magpies a massive lead of 32-6.
Townsville were still alive though when Jamal Shibasaki scored two tries in seven minutes. Originally named on the bench, Shibasaki moved into the starting side to great effect.
When the Mendi Blackhawks were forced to come out of their end, it was inspirational captain Damon Marshall who got the ball and found Shibasaki to run away and score.
Shibasaki's second try was all force as he crashed his way over and planted the ball to give the Blackhawks a glimmer of hope at 32-16.
The Blackhawks dream was still alive when they went from left to right and through the hands and Tremaine Body found some space to make the scores 32-20 with 15 minutes to go.
Max Hayley went in for the Blackhawks, with an error from a kick resulting in his try.
It was now 32-26 and it was game on in a big way.
However, Mozer stood up when the going got tough and threw a pass with great width and Gray was outside and able to step through defenders to score.
Timothy Sielaff-Burns landed the much needed extra two points and the Magpies held on to win 38-26.
BLACKHAWKS TRIES: Tekelu Mene 22′, Jamal Shibasaki 40′, Jamal Shibasaki 47′, Tremaine Body 53′, Max Hayley 56′ CONV: Zack Lamont 3/5