RD 5 Match Report – Mendi Blackhawks Triumph Over Tweed Seagulls at Home
Sunday, April 24, 2022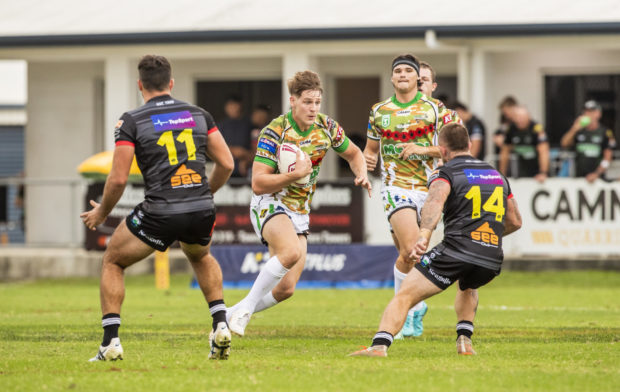 Riley Price in action for the Mendi Blackhawks.  Photo Alix Sweeney
AMELIA PATTEL – BLACKHAWKS MEDIA
The Mendi Blackhawks hosted Tweed Seagulls for the round 5 ANZAC clash at Jack Manski Oval.
The day started with a moving remembrance ANZAC ceremony, prior to kick off.
The Mendi Blackhawks welcomed back inaugural Mendi Blackhawks player Robert Lui and Jordan Kenworthy.
Both teams started off with determination to gain the upper hand and searched for a weakness to gain control of the game, but the wet conditions made it difficult.
The Tweed Seagulls were able to put their name on the board first through Lee Turner in the corner and the conversion attempt from Lindon McGrady was unsuccessful.
Mendi Blackhawks enforcer Josh Chudleigh put his team on the board by charging through the defensive line and Michael Bell's conversion was successful, putting the home side in front.
Mendi Blackhawks Robert Lui returned to Hostplus Cup in style as he dazzled defence to cross the line and Michael Bell's kick was successful, extending the Mendi Blackhawks lead.
With the Mendi Blackhawks side building in confidence, Kalifa Faifai-Loa found a way to add his name to the scoreboard as he won the chase to the ball and planted it in the corner, but the conversion was unsuccessful.
At the conclusion of the first half the score stood at 16-4 in favour of the Mendi Blackhawks.
The second half of the match saw massive defensive efforts from both sides, and it proved to be difficult for either side to score points.
Mendi Blackhawks secured the win through a field goal by Michael Bell in the final minutes of the game, breaking the drought of points.
The end score was 17-4 with the Mendi Blackhawks taking the win.
Robert Lui was named the Hastings Deering man of the match.
The round 6 fixture will send the Mendi Blackhawks off to Moreton Daily Stadium to face the Redcliffe Dolphins and Tweed Seagulls are to host Wynnum Manly Seagulls at home.
In the earlier game today the Mendi Blackhawks U21s defeated the Tweed Seagulls 20-10 in the Hastings Deering Colts.