RD 4 Results
Monday, April 11, 2022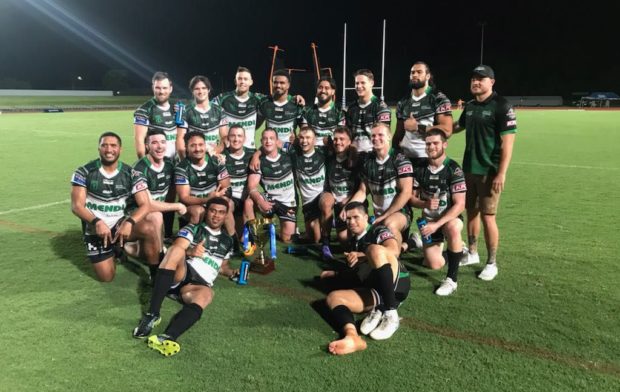 The Mendi Blackhawks defeated the Northern Pride in round 4 of the Hostplus Cup.  Photo Blackhawks Media
BLACKHAWKS MEDIA
The Townsville & Districts Mendi Blackhawks have won back to back wins for the first time this year with a 22-12 win over the Northern Pride in the XXXX Rivalry Round.
In their first away game of the season, the Mendi Blackhawks were first to score through Kalifa Faifai Loa.
The home team bounced back through Evan Child scoring a try then again with Robert Derby just before half time putting the home team in front at the break.
The Mendi Blackhawks did a great job defensively keeping the Pride scoreless in the second half, taking out back to back wins for the first time this year.
TRIES: Kalifa Faifai-Loa 6′, Iosefo Baleiwairiki 47′, Kalifa Faifai-Loa 57′, Michael Bell 75′ CONV: Michael Bell 3/4
U21s RD 2 Mendi Blackhawks 58 – 12 Northern Pride
A hat-trick from Joel Baldwin has helped seal a 58-12 win over the Northern Pride in round 2 of the Hastings Deering Colts
TRIES: Dylan White 5′, Jake Bourke 18′, Joel Baldwin 23′, Joel Baldwin 26′, Zac Laybutt 34′, Joel Baldwin 44′, Marly Bitungane 50′, Zac Laybutt 57′, Jake Bourke 63′, William Latu 76′ CONV: Dylan White 9/10
U18s RD 7 Mendi Blackhawks 28 – 16 CQ Capras
Mendi Blackhawks U18s have finished the Auswide Bank Mal Meninga Cup regular season undefeated and on top of the ladder.
The team won in Rockhampton on Saturday 28-16, against the CQ Capras.
TRIES: Damon Marshall 22′, Damon Marshall 28′, Elijah Joe 30′, Tekelu Mene 37′, Elijah Joe 49′, Max Hayley 66′ CONV: Zack Lamont 2/5
The first semi-final game will be held on the Sunshine Coast on Saturday, April 23.
All teams have a break this weekend over the Easter period then we return to Jack Manski Oval the following Sunday for our ANZAC round game against Tweed.