U18 Mendi Blackhawks Aim to Take Winning Momentum into Finals
Friday, April 8, 2022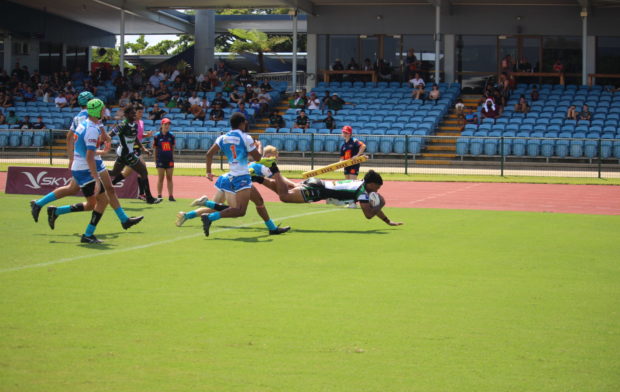 Mendi Blackhawks U18s head into the final round on top of the ladder.  Photo Blackhawks Media
Michael Nunn & Colleen Edwards
Fri 8 Apr 2022, 10:51 AM
It's the final regular season round of the Auswide Bank Mal Meninga Cup and spots in the finals series of this year are still in play.
The finals structure for this year will see the winners of Pool A and Pool B and the top two teams in Pool C competing in a finals series.
While Townsville Mendi Blackhawks comfortably lead Pool A, there a number of contenders in the mix to top Pool B, with Sunshine Coast Falcons and Western Clydesdales the frontrunners.
In the southeast Queensland-based Pool C, Souths Logan Magpies and Norths Devils are set to progress after dominant seasons.
This weekend, Townsville will take on Central Queensland Capras and will aim to finish the regular season on a high.
Townsville have won four games and have scored a huge 166 points for, but their defence is a "Townsville wall", conceding only 18 points.
The most points any team has managed to score against Townsville has been the Mackay Cutters, who hit 10.
In that game, Townsville raced out to 10-0 against Mackay and when Mackay came back, they were able to compose themselves and find some rhythm.
Mendi Blackhawks Coach Roy Baira has built this attack on defence.
"We set ourselves the goal of keeping teams to under six every game, we didn't achieve that last game, so I was filthy," Baira said.
"It's a difficult age group to make defence your focus, they all want to score last and win 30-24.
"We want to control the middle and dominate teams with our defence.
"Damon Marshall is our captain and lock forward and he drives it he is our minister for defence."
In the other games of the round, all teams will be aiming to either finish their short season well, earn a place in the finals with a strong win or put in a solid performance to help build the foundations for next year.
Watch this game LIVE on QPlus or following the scores HERE.
Auswide Bank Mal Meninga Cup LADDER.