Mendi Blackhawks Seal First Win Against Wynnum Manly at Home
Friday, April 1, 2022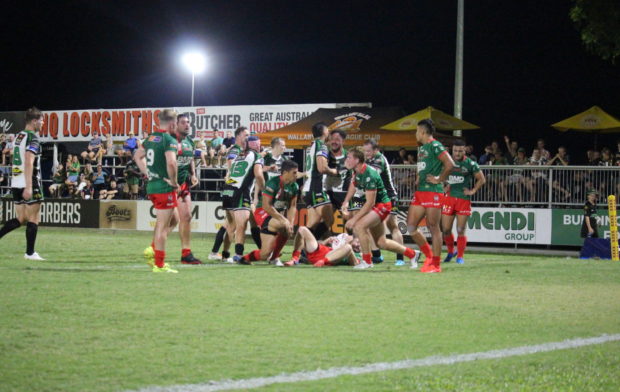 Amelia Pattel – Blackhawks Media
The Mendi Blackhawks and Wynnum Manly Seagulls kicked off round 3 of the Hostplus Cup at Jack Manski Oval for a night of Friday night football.
Wynumm Manly came into the match with a win against Northern Pride from round 2 and the Mendi Blackhawks had a narrow loss at home against the Burleigh Bears.
The Seagulls opened up the scoring for the evening through David Mead and Falakiko Manu converted the try, giving his side an early lead.
Mendi Blackhawks backrower Patrick Kaufusi crashed through a wall of defence to put his team on the board and Kyle Laybutt's conversion was successful, locking the scores 6-6.
Wynnum went into the break with a 12-6 lead after winger Sione Hopoate scored in the corner just before half time, Falakiko Manu's converted the try.
Mendi Blackhawks Aaron Moore outsmarted the defence with a show and go, using his speed to put himself through a gap, to score the points in of the second half. Kyle Laybutt's kick locked the scores again.
The hosts hit the lead next as the team spread the ball across the field to land in the hands of Jordan Lipp, who was quick to find the line, pushing through his opposition and Laybutt again added the extras with a sideline strike.
Blackhawks prop Emry Pere proved to be too powerful as he crossed over the line extending the lead to double figures.
Mendi Blackhawks flying winger Kalifia Faifai-Loa sealed the win for the Blackhawks right on the full time bell.
Mendi Blackhawks Coach Aaron Payne praised his team for the strong defence, shutting the Seagulls out in the second half.
"I thought it was a brave win tonight, with our back against the wall early in the season," Payne said.
"Other then the try in the first minute and the one just before half time, they didn't score another point for the rest of the game."
"It was the win we needed one to get a reward for our hard work in the off season, but it was also just to give the boys some confidence to know they are doing the right thing."
The final score was 28-12.
Adding onto the defeat for the Wynnum Manly Seagulls, Kalolo Saitaua spent the final minute of the game in the sin bin for a professional foul.
For the round 4 fixture, the Mendi Blackhawks have their first away game for the season as they travel to Cairns to play the Northern Pride in the XXXX Rivalry Round. Wynnum Manly Seagulls are set to host the Redcliffe Dolphins.
In other results our Mendi Blackhawks defeated Wynnum Manly 38-24 in their first game of 2022.
The Mendi Blackhawks U18s also stay undefeated with a 22-10 win over the Cutters in Mackay on Sunday.
Thank you to Jim O'Reilly for these great action shots!