U18s RD 5 Match Report – Blackhawks Defeat Pride in Style
Saturday, March 26, 2022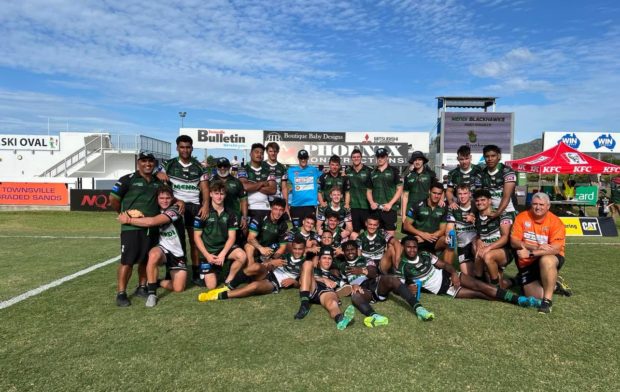 AMELIA PATTEL – BLACKHAWKS MEDIA
Mendi Blackhawks Flex Their Muscles at Home Against Northern Pride
In the round 5 fixture of the Auswide Bank Mal Meninga Cup season, the Mendi Blackhawks hosted the Northern Pride at Jack Manski Oval.
Mendi Blackhawks captain Damon Marshall opened the scoring for the match with him pushing through Northern Pride defence to get his team an early lead and the kick attempt by Zack Lamont was successful.
Mendi Blackhawks winger Tekelu Mene proved to be untouchable as he ran the length of the field with his opposition struggling to stop him and Lamont successfully added the extra points.
Mendi Blackhawks Sean Bourke bamboozled the defence to score as he spun out of tackles to find the try line and Lamont's conversion was successful.
Northern Pride were able to put their name on the board as Issac Stagg picked up a loose ball and scored with Kaleb Eaton converting.
Mendi Blackhawks Sean Bourke showed his speed as he pushed past his defenders to grab a double and Lamont was able to add the extras.
Damon Marshall was quick to also grab a double and Lamont continued his perfect kicking streak.
The halftime score stood at 30-6, in favour of the home side.
Try-scoring sensation Tekelu Mene beat defenders down the sideline and flew over to bag his second of the day with Lamont unable to convert from the sideline.
With both sides desperate to break through the other sides defence, Mendi Blackhawks Sean Bourke scored a hat-trick as he tore through a fatigued Pride defence and Lamont was able to convert.
The home team quickly gained the upper hand as Elijah Joe showed his muscle and speed as he flew past his defence with Zack Lamont successfully converting.
Continuing the Blackhawks try scoring streak, Tajshon Santo-Messa put his name on the board by fighting through the tired Northern Pride defensive line and Lamont successfully converted.
Zack Lamont was able to find space by dancing around his opposition to soar over the try line and he successfully converted, adding more points to the board.
As Northern Pride scrambled to make points in the last seconds, the Mendi Blackhawks ran away with the lead and the final score sat at 58-6.
For the round 6 clashes, the Mendi Blackhawks are off to BB Print Stadium in Mackay to take on the Cutters and Northern Pride will host the Capras.