U16s Match Report Mendi Blackhawks Win at Home in Style For Their Final Game of 2022
Saturday, March 26, 2022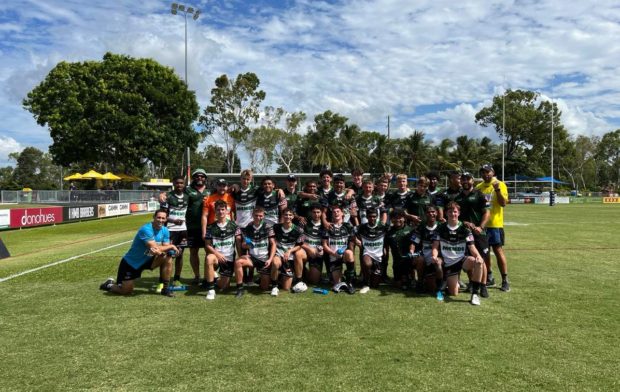 AMELIA PATTEL – BLACKHAWKS MEDIA
For the last round of the Cyril Connell Challenge, the Mendi Blackhawks U16s took on the Northern Pride at Jack Manski Oval.
After facing a loss at home last weekend against the Capras, the Mendi Blackhawks were looking to finish their season with a win in front of their home crowd whereas the Northern Pride were still in search of their first win.
The Northern Pride scored first through hooker Cohen Emmi, with him squeezing through the Mendi Blackhawks defence, crashing on the try line.
The Mendi Blackhawks were able to take the lead with Loranzo Fono scoring in the 15th minute following a strong effort by Braith Dowson, who opened up the defence and making ground for his side and the conversion attempt by Preston Cassidy was successful.
Mendi Blackhawks winger Iowani Cavuilati put on a show with a break down the sideline and delivered a pass to Amaziah Murgha for him to score under the sticks and Cassidy's conversion attempt was successful.
The home team were rewarded for their hard effort in defence as in the 26th minute, with Lascolm Tugai too strong for the Northern Pride to keep out and the conversion was successful, giving Cassidy a perfect streak.
Resilient defence by the Mendi Blackhawks kept the Northern Pride for the remainder of the first half with the Mendi Blackhawks leading the match 18-4 at the break.
The Pride's luck didn't change as their kick to start off the second half went out on the full, giving the Mendi Blackhawks the field position that they needed for Lascolm Tugai to score his second for the day and Cassidy easily added on the extra points with a kick in front of the post.
The Northern Pride were able find a gap in the defence and Marley Helion gave his team a very important try in the 40th minute but the kick attempt was unsuccessful.
Mendi Blackhawks Iowani Cavuilati once again showed his magic as he flaunted his speed, beating the Northern Pride defence and handing the ball off to Cohen Dittmann to score, followed by another successful kick by Preston Cassidy.
Amaziah Murghia continued the Mendi Blackhawks scoring frenzy as he was able to score a double as he fought off defence to stay in the field of play and fell over the try line but Preston Cassidy was unable to convert.
Mendi Blackhawks showed no mercy as they continued to push through a beaten Northern Pride defensive line and Elijah-Shane Tapau scored in the corner and the kick attempt was unsuccessful.
The Mendi Blackhawks closed out the match with Cohen Dittmann spinning out of tackles to find the line for his second try and the kick by Cassidy was unsuccessful.
The Mendi Blackhawks were able to bring it home with a 42-8 win and gave their home audience a spectacular performance to finish their season.
BLACKHAWKS TRIES: Loranzo Fono 15′,  Amaziah Murgha 22′, Lascolm Tugai 26′, Lascolm Tugai 31′, Cohen Dittmann 44′, Amaziah Murgha 48′, Elijah-Shane Tapau 52′, Cohen Dittmann 59′ CONV: Preston Cassidy 5/8
NORTHERN PRIDE TRIES: Cohen Emmi 4′, Marley Helion 40′