U19s Round 4 Match Report – Mendi Blackhawks Finish Season Undefeated
Sunday, March 20, 2022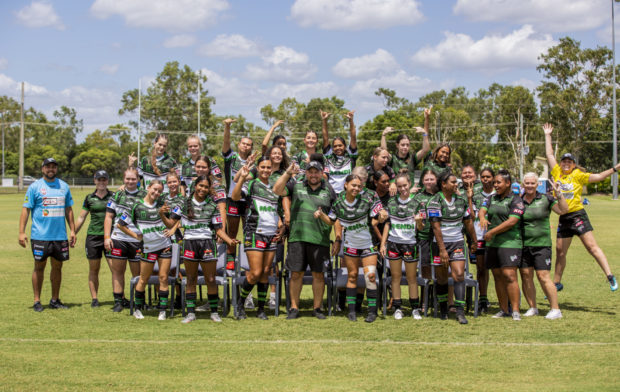 2022 Mendi Blackhawks U19s finish the season undefeated. Photo Alix Sweeney
AMELIA PATTELL – BLACKHAWKS MEDIA
The Mendi Blackhawks U19 girls played their final match of their season with a home game at Jack Manski Oval.
Going through their season undefeated, Mendi Blackhawks took on the CQ Capras who were searching for their first win.
The Mendi Blackhawks were coming off a win against the Cutters whereas the Capras are trying to bounce back after defeat from Northern Pride the week prior.
Capras hit early in the match with Antonia Hendry-Ratima getting the first points of the day in the 5th minute and Kyah Szepanowski creating a 6-0 score line with a successful conversion attempt.
The Mendi Blackhawks tried to keep their opposition out but Capras Summer Nicholls proved to be too much for the Mendi Blackhawks as she crossed the line, not long after her teammate, with an unsuccessful conversion attempt.
With the Capras off to a lead and putting pressure on the Mendi Blackhawks, it wasn't long until the Mendi Blackhawks were able to gain momentum through Chloe Watson in the 18th minute who was able to score under the posts and the conversion by Prue Peters was successful.
However, a knock on from the Mendi Blackhawks gave the Capras the confidence they needed as winger Gail Winni took advantage and scored a try, extending the Capras lead soon after with a successful conversion from the sideline by Szepanowski.
Chloe Watson showed her strength again in the 25th minute as she scored her second try to get her team back in the match with Prue Peters converting.
Despite the Mendi Blackhawks efforts to get an early lead, the Capras led after the first 30 minutes with the score sitting at 16-12.
With the second half underway, the Mendi Blackhawks got on the board early with Cecelia Brown Chinfat Hawkins crashing over the line in the 31st minute but Prue Peters was unable to convert, leaving the scores level.
As pressure was building on the Capras, they showed to fall into submission to the Mendi Blackhawks as a knock on from the kick return was all Mendi Blackhawks' centre Remi Bishop needed to find a gap and soar over the try line in the 46th minute to take the lead.
The Capras were able to bring the scores back to a tie in the 52nd minute through Alenna Whipp with an unsuccessful conversion.
With two minutes of the game and season remaining, Prue Peters secured the Mendi Blackhawks win with an important try and successfully converted, leaving the final score at 26-20.
The Mendi Blackhawks finished their season with a perfect winning streak whereas the Capras end on a sour note with a loss for every game but fought hard to the finish line.