U16s RD 4 Match Report – Capras End Mendi Blackhawks Winning Streak
Sunday, March 20, 2022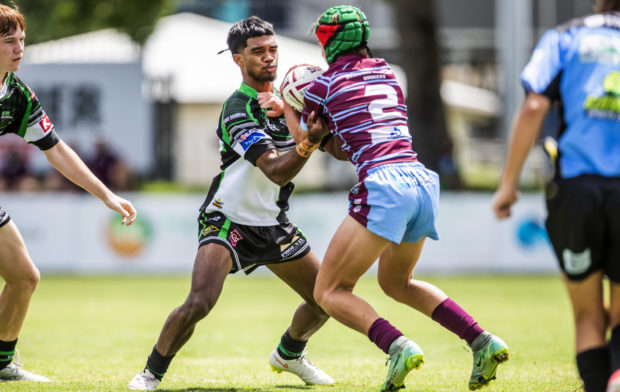 U16s RD 4 Amaziah Murgha for the Mendi Blackhawks v Capras. Photo Alix Sweeney
AMELIA PATTELL – BLACKHAWKS MEDIA
The Mendi Blackhawks Cyril Connell team kicked off a long day of rugby league at Jack Manksi Oval against the Capras.
This is the first home game for the Mendi Blackhawks U16 side for the season and they are coming off a win against the Cutters from the prior round.
The Mendi Blackhawks opened the scoring in the first minute of the game through Lascolm Tugai crashing over the line with a successful conversion from Preston Cassidy.
It didn't take long for the Capras to hit back as winger, Cody Sanewski put his team back in the contest in the 9th minute with a try on the sideline with an unsuccessful kick attempt from Isaac Walker.
Inconsistency from both sides saw a drought of points for 21 minutes and the first half finished with a score of 6-4 in favour of the Mendi Blackhawks.
An early error by the Capras saw opportunity for the Mendi Blackhawks to score first in the second half and Hayde Munro gave his team an early boost by scoring a try, pushing the score out to 12-4, followed by another successful conversion by Preston Cassidy.
The Capras were able to find their groove after a charge down from Clancy Hohn, giving his team motivation to start a comeback with Jett Day scoring the four-pointer in the 44th minute and Isaac Walker closing the gap to 2 points.
Capras prop Tavita Penaia T'eo pushed through desperate Mendi Blackhawks defence to give his team the lead late in the game and the conversion from Isaac Walker was successful.
The Blackhawks were racing the clock to regain their lead in a gutsy effort during the dying seconds of the match with Amaziah Murgha winning back the ball from kick off but the Capras defence sealed their win with the score ending at 16-12.
Another loss to the Mendi Blackhawks was an injury to Kanye Pua'avase which forced him off the field late in the first half and he was unable to return.
The Mendi Blackhawks will play their last game of the season against Northern Pride at Jack Manski Oval and the Capras are to play the Cutters at home.