Mendi Blackhawks U18s Flex Their Muscles at Home Against Northern Pride
Sunday, March 20, 2022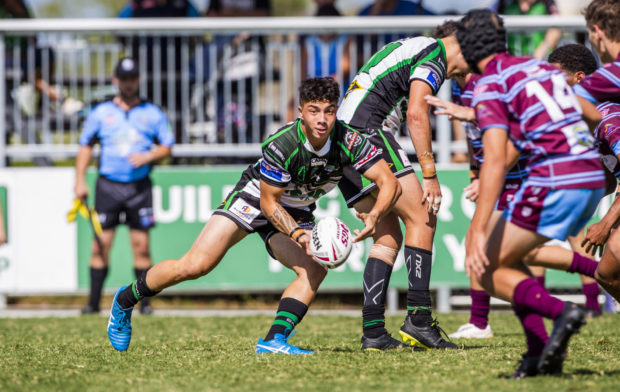 Mendi Blackhawks U18s R4 v Capras. Photo Alix Sweeney
AMELIA PATTEL – BLACKHAWKS MEDIA
Jack Manski Oval played host for the round 4 matchup between the Capras and the home team, the Mendi Blackhawks.
Coming off a huge win against the Cutters last week, the Mendi Blackhawks looked to have a win for their first game at home early, whereas the Capras were coming off a loss and seek redemption.
Mendi Blackhawks captain, Damon Marshall opened the scoring early in the first half, giving his team the early lead and Zack Lamont was able to add the extras.
However, the Capras were able to break the Mendi Blackhawks defensive with Capras hooker Carter Wright diving over the line from dummy half and Callan Campbell converting the try, locking the teams at 6-6.
Mendi Blackhawks were quick to hit back as Sean Bourke broke through the Capras to take back the lead, scoring under the posts and Zack Lamont pushed it out to a converted try lead.
Mendi Blackhawks centre, Elekana Suavai proved to be too strong for the Capras defence as he beat tackles to crash over the white stripe and the conversion by Lamont was successful.
With a beaten Capras defence, it didn't take long for the Mendi Blackhawks to take advantage and this saw Tekelu Mene push the lead out for the Blackhawks but Zack Lamont's conversion attempt was unsuccessful.
The score at halftime sat at 22-6 in favour of the Mendi Blackhawks.
The Capras entered the second half with ground to make to force a comeback to attempt to take the win but Terell Anderson opened the scoring for the Mendi Blackhawks in the second half and an unsuccessful conversion attempt.
A dangerous tackle by the Capras allowed Mendi Blackhawks Sean Bourke to deliver a cut out pass to Tekelu Mene, scoring his second for the day but the conversion was unsuccessful.
The Mendi Blackhawks showed their dominance in the game as Tekelu Mene dove over the line for a hattrick and Zack Lamont added the extra 2 points with a successful conversion attempt.
After an error from the Capras, the Mendi Blackhawks acted quick to continue to shut out their opposition with  Elekana Suavai scoring his second try for the day in the 53rd minute with an unsuccessful conversion attempt.
Desperate efforts from the Capras to stop the Mendi Blackhawks from scoring again or to close the margin showed to have no effect on the Mendi Blackhawks as they secured a 40-6 win.
Adding on to the bad news for the Capras, a dangerous tackle that lifted a Mendi Blackhawks player past the horizontal put Capras prop Jaiden Green on report. However, Mendi Blackhawks also faced an injury in the 63rd minute with Sione Afu suffering a head knock that saw him leave the field.
The Blackhawks are scheduled to host Northern Pride for round 5 and the Capras will be hosting the Cutters.