Round 1 Team Named
Tuesday, March 15, 2022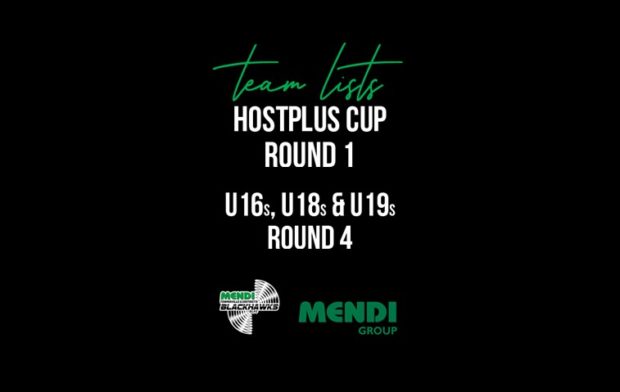 This weekend is the first home game of 2022 and our final game for our U19 girls. Photo: Blackhawks Media
BLACKHAWKS MEDIA
It's our first home game of 2022 at Jack Manski Oval this Sunday, when we take on reigning premiers Norths Devils in round 1 of the Hostplus Cup.
Coach of the Mendi Blackhawks Aaron Payne, said his team was looking forward to running out on home soil.
"It's been a long time between drinks since we played at home," Payne said.
"It's been well documented that our pre-season focus was defensive and the players really brought into it."
"We have had a relatively good pre-season, with only one indoor session, and last weekend in Bowen was the first time we played in the wet."
"Most of our players have only had one trial match, and with the NRL already started, that has fuelled their desire to play."
This Sunday will be a big occasion for the Mendi Blackhawks with four players making their debut with the club, Kayleb Milne, Emry Pere, Jake Bourke and Tomas Chester and newly appointed club captain Josh Chudleigh will lead the team out for the first time.
"The players really enjoy playing in front of their family and friends, and supporters and members,"
"So we look forward to seeing you all at Jack Manski Oval this Sunday."
Prior to the main game, our three junior teams, will be looking at making it three from three wins as they take on the CQ Capras.
Come and farewell our Harvey Norman U19 girls as they play their final game of 2022.
This Sunday's game day is proudly brought to you by the Townsville Bulletin.
RD4 Cyril Connell Challenge U16s
Mendi Blackhawks V CQ Capras
11am, Jack Manksi Oval
1. Logan Brookes
2. Iowani Cavuilati
3. Cohen Dittman
4. Amaziah Murgha
5. Keelin Hookey
6. Preston Cassidy
7. Kynan Purdy
8. Jeffrey Ross
9. Braith Dowson
10. Lorenzo Fono
11. Kanye Pua'avase
12. Elijah Tapau-Taylor
13. Kaiden Lahrs (C)
Interchange
14. Hayde Munro
15. Lascolm Tagai
16. Oakland Stowers
17. Nick Divljak
18. Marshall Scott
19. Kyhnaan Kennedy
Coach: Nathan Norford
RD4 Harvey Norman U19s
Mendi Blackhawks V CQ Capras
12.30pm, Jack Manski Oval
1. Michelle Abai (VC)
2. Logan Roncato
3. Stella Abbott
4. Remi Bishop
5. Halli Barker
6. Jairel-Ellen Martin-Savage
7. Meg O'Brien
8. Jacinta Maurangi (C)
9. Kaitlin Daley
10. Hannah De Daunton
11. Cecilia Brown
12. Anna-Mina Bin Awel
13. Prue Peters
Interchange
14. Niquita Peters
15. April Major
16. Sera Sadrata
17. Chloe Watson
18. Shilah Caulton
19. Carolynn Morgan
20. Theophelia Mosby-Nona
Coach: Rob Hall
RD4 Auswide Bank Mal Meninga Challenge U18s
Mendi Blackhawks V CQ Capras
2pm, Jack Manski Oval 
1. Elijah Joe
2. Tekelu Mene
3. Elekana Suavai
4. Max Hayley
5. Tremaine Body
6. Sean Bourke
7. Zac Lamont
8. Jeremiah Matautia
9. Tajshon Santo-Messa
10. Henry Teutau
11. Terell Anderson
12. Wade Jonsson
13. Damon Marshall (C)
Interchange
14. Hoani Harris
15. Wil Sullivan
16. Sione Afu
17. Jamal Shibasaki
18. Joseph Currie
19. Manihi Maurangi
20. Hayden Lammon
Coach: Roy Baira
Trial 3 Hastings Deering Colts U21s
Mendi Blackhawks V Brothers Townsville
Friday 7pm, Jack Manski Oval
1. Dylan White
2. Jesse Yallop
3. Ragsy Wavik
4. Zac Laybutt
5. Lewis Mene
6. Thomas Duffy
7. Aaron Moore (C)
8. Emarly Bitungane
9. Jai Hansen
10. Adam Mitchell
11. Kulikefu Finefeuaki
12. Will Latu
13. Tyreice Baira-Gela
Interchange
14. Joel Baldwin
15. Cameron Bateup (C)
16. Braydon Ross
17. Daniel Buckland
18. Braythen Porter
19. Jodeci Baker
20. Tyson Chase
21. David Mills-Prior
22. Declan Dowson
23. Ethan Andrews
Coach: Steve Sheppard
Round 1 Hostplus Cup
Mendi Blackhawks V Norths Devils
3.30pm, Jack Manski Oval
1. Jaelen Feeney
2. Michael Carroll
3. Michael Bell
4. Jordan Lipp
5. Kalifa Faifai-Loa
6. Kyle Laybutt
7. Jake Bourke
8. Joe Boyce
9. Josh Chudleigh (C)
10. Emry Pere
11. Tom Hancock
12. Patrick Kaufusi
13. Riley Price
Interchange
14. Tomas Chester
15. Cade Maloney
16. Kayleb Milne
17. Nathan Barrett
18. Zac McMinn
19. Taniela Sadrugu
Coach: Aaron Payne
Good luck teams! 🍀🖤💚