Blackhawks Juniors Round 2 Results
Monday, March 7, 2022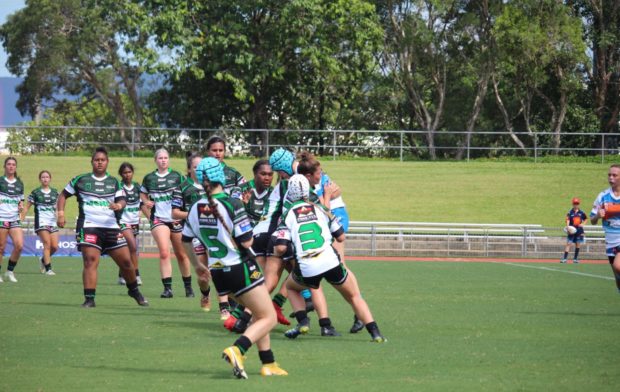 BLACKHAWKS MEDIA
The Townsville and Districts Mendi Blackhawks junior teams made it three from three in round 2, against the Northern Pride in Cairns on Saturday, including the first win ever by our U19 girls.
The Mendi Blackhawks U16s kicked off the day with an impressive 36 – 4 win over the pride.
Coach of the Mendi Blackhawks Nathan Norford was pleased with his teams performance.
"The boys battled the fumbles early, and showed some resilience on their line to keep them out," Norford said.
"We found some joy late in the halves pushing through the middle with size and speed."
"Our hooker Braith Dowson was good in controlling the middle, and our centre's were outstanding in shutting down their attacking raids."
A hat-trick to Tekelu Mene and a solid display in defence, saw the Mendi Blackhawks U18s claim a 30-0 win against the home team.
"To start off with a tough win against the Pride in some very humid and hot conditions up Cairns was very pleasing," Coach Roy Baira said.
"I think we started really well and produced some good opportunities on our left edge with Elekana and Tekelu Mene."
"This was because of our strong start in the middle third with Damo, Henry and Jeremiah leading us from the front."
"We still have a heap of improvement in us as a team and some simple decision making, but looking forward too the week ahead and playing Cutters in Bowen."
"It'll be another tough one with them going down too Capras,"
"I'm sure they'll want to bounce back with a strong performance and we'll have to be ready and look to improve on our performance last week."
After a winless 2021, our Mendi Blackhawks girls posted their first win of the Harvey Norman U19 girls competition.
"It was a really tough win, they had to grind it out in pretty trying conditions and we finished up with only 2 on the bench," Coach Rob Hall said.
"Our middles were great, we lost Chloe Watson inside the first 10 minutes so we had to make some adjustments to our rotation."
"Jacinta Maurangi and Theo Mosby both played the full 60 in the middle and Jacinta did over 7kms on the gps so that was a real captains knock."
"Hannah Dedaunton got the players player award after starting from the bench, she was really physical and got our "bell ringer" award for best tackle of the game."
"As a group, there has been a lot of competition for spots and they have really bought into the "next lady up" mindset and grabbed their opportunities with both hands."
"This week will be another really big test but we are excited for the challenge."
The Mendi Blackhawks Hastings Deering Colts U21s and Hostplus Cup kicked off their first trial matches of 2022 both winning their games in Cairns.
Round 2 Results
U16s Mendi Blackhawks 36 def 4 Northern Pride – TRIES: Logan DEININGER 10′, Kaiden LAHRS 17′, Elijah-Shane TAPAU 22′, Elijah-Shane TAPAU 39′, Logan DEININGER 50′, Keelin HOOKEY 55′, Amaziah MURGHA 58′ CONV: Preston CASSIDY 4/7
U18s Mendi Blackhawks 30 def 0 Northern Pride – TRIES: Tekelu MENE 1′, Elijah JOE 10′, Elekana Suavai 21′, Tekelu MENE 25′, Elekana Suavai 38′, Tekelu MENE 60′ CONV: Zac LAMONT 3/6
U19s Mendi Blackhawks 14 def  0 Northern Pride – TRIES: Theophelia MOSBY-NONA 44′, Niquita PETERS 48′, Remi Bishop 59′ CONV: Prue PETERS 1/3
Trial 1 Results
U21s Mendi Blackhawks 36 def Northern Pride 4
Hostplus Cup Mendi Blackhawks 6 – 22 Northern Pride
Next week, all five teams travel to Bowen for Round 2 of our U16s, U18s and U19s and Trial 2 for our U21s and Hostplus Cup against the Mackay Cutters.