Mendi Blackhawks Survive Surprise Camp
Wednesday, March 2, 2022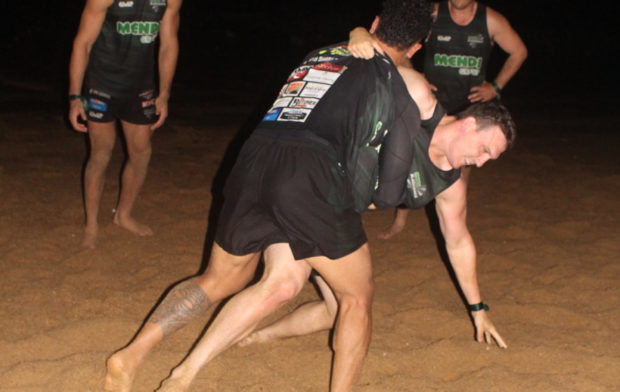 Patrick Kaufusi and Cade Maloney wrestling on the beach at Pallarenda
BLACKHAWKS MEDIA
The Mendi Blackhawks are pretty sure they're playing a trial in Cairns on Saturday night, but they may be a bit wary what direction the bus heads in, after being a spun a few white lies last weekend.
Townsville coach Aaron Payne told the players to pack for an overnight stay at Wests' cricket hall, 'bonding' being his reason for the get together. It quickly became apparent there'd be little time for sleeping though.
The first of four physically demanding activities was a trek up an iconic Townsville landmark. Centre Michael Bell was caught off guard, given the team had already trained in the afternoon.
"It was unexpected! We went up Castle Hill at about 9pm I think. We got split into groups and had to carry a big rope. You couldn't really see anything, so it was all about communication."
A trip to the Strand wasn't to stop for ice-cream. The group got down on all fours to attack an obstacle course on the beach. A pitch black Pallarenda provided an almost eerie arena, for an unrelenting wresting battle between the players. Bell believes they earned each other's respect by not holding back.
"I'm fairly sure all the boys have a few cuts and grazes but it was good to see everyone compete."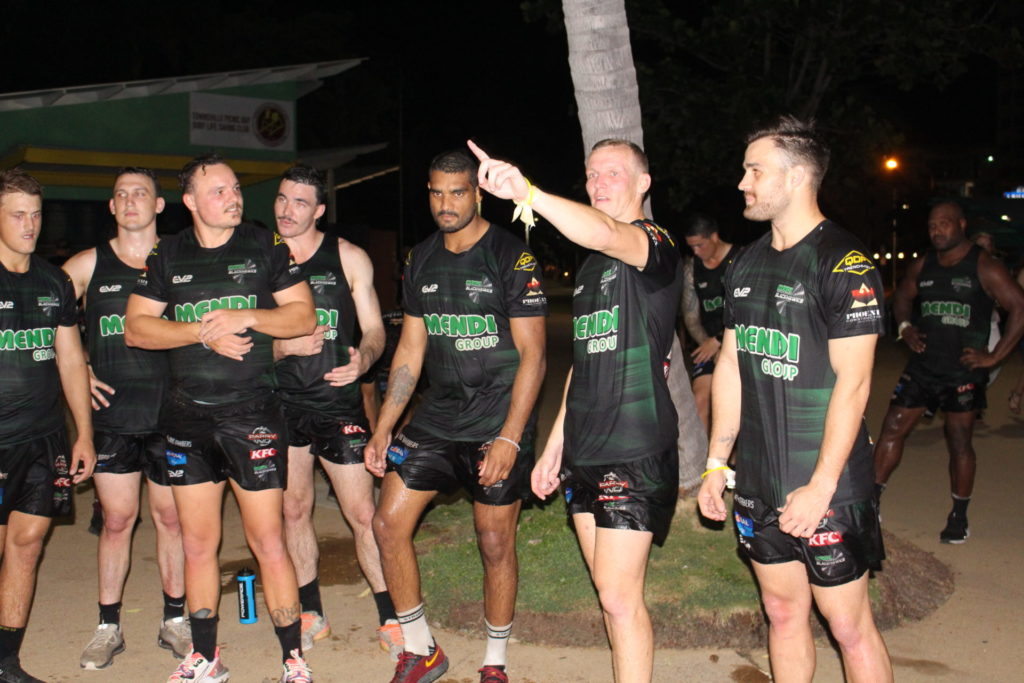 A water bomb fight at the Jezzine Barracks at least gave the guys some relief from the muggy conditions. They were soaked in sweat as much as they were wet from the ocean.
Back rower Zachery McMinn knows the climate contributed to making the exercises that much tougher.    "Just keep telling myself it'll be worth it when the pre-season is done and the games get started, that sort of thing."
He embraced one final activity before bed, which didn't require energy.
"Probably about 1 o'clock in the morning we just all got in a big circle and sort of wen through some things witch each other that we wouldn't really tell anyone else. It was just really good to get to know the boys on a more personal level."
The camp concluded with a goal setting session in the morning. Team objectives and individual expectations were established, which will hopefully culminate in a maiden premiership for the club.
Watch the video here https://www.facebook.com/tsvblackhawks/videos/635473157535211