First Teams Named for 2022
Wednesday, March 2, 2022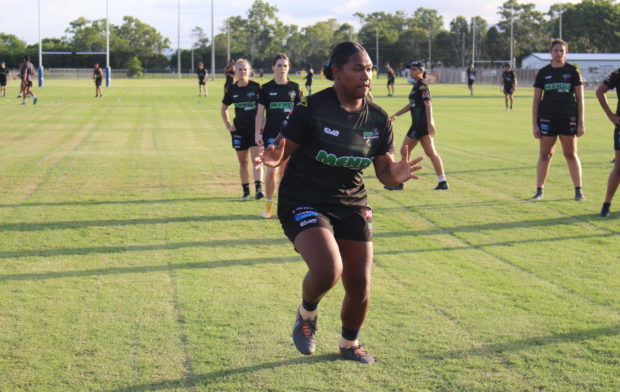 All five Mendi Blackhawks teams will travel to Cairns this weekend to take on the Northern Pride.  Photo: Blackhawks Media
BLACKHAWKS MEDIA
The Mendi Blackhawks have named their five teams to travel to Cairns this Saturday to take on the Norther Pride.
The games will be round 2 for the U16s, U18s and U19s and the first trial games for the U21s and Hostplus Cup teams.
Round 1 was a bye round.
Entry is free at Barlow Park with gates opening at 11.30am.
RD1 Cyril Connell Challenge U16s
Mendi Blackhawks V Northern Pride
12pm, Barlow Park Cairns
1. Logan Brookes
2. Dylan Gourley
3. Cohen Dittman
4. Amaziah Murgha
5. Keelin Hookey
6. Preston Cassidy
7. Kynan Purdy
8. Kanye Pua'avase
9. Braith Dowson
10. Lorenzo Fono
11. Archie Blacklock
12. Elijah Tapau-Taylor
13. Kaiden Lahrs (C)
Interchange
14. Hayde Munro
15. Lascolm Tagai
16. Jeffery Ross
17. Marshall Scott
18. Cooper Pearson
Coach: Nathan Norford
RD1 Auswide Bank Mal Meninga Challenge U18s
Mendi Blackhawks V Northern Pride
1.20pm, Barlow Park Cairns
1. Elijah Joe
2. Tekelu Mene
3. Elekana Suavai
4. Max Hayley
5. Tremaine Body
6. Sean Bourke
7. Zac Lamont
8. Jeremiah Matautia
9. Tajshon Santo-Messa
10. Henry Teutau
11. Terell Anderson
12. Wade Jonsson
13. Damon Marshall (C)
Interchange
14. Lachlan Lerch
15. Wil Sullivan
16. Sione Afu
17. Jamal Shibasaki
18. Manihi Maurangi
Coach: Roy Baira
RD1 Harvey Norman U19s
Mendi Blackhawks V Northern Pride
2.50pm, Barlow Park Cairns
1. Michelle Abai (VC)
2. Halli Barker
3. Stella Abbott
4. Remi Bishop
5. Logan Roncato
6. Jairel-Ellen Martin-Savage
7. Meg O'Brien
8. Theophelia Mosby-Nona
9. Kaitlin Daley
10. Chloe Watson
11. Anna-Mina Bin Awel
12. April Major
13. Jacinta Maurangi (C)
Interchange
14. Niquita Peters
15. Cecilia Brown
16. Hannah DeDaunton
17. Jahntae Mara
18. Sera Sadrata
19. Carolynn Morgan
20. Prue Peters
Coach: Rob Hall
Trial 1 Hastings Deering Colts U21s
Mendi Blackhawks V Northern Pride
4.15pm, Barlow Park Cairns
1. Declan Dowson
2. David Mills-Prior
3. Ethan Andrews
4. Jodeci Baker
5. Lewis Mene
6. Ragsy Wavik
7. Maverick Pegoraro
8. Cruz Smith
9. Joel Baldwin
10. Emarly Bitungane
11. Eddie Hampson
12. Will Latu
13. Cameron Bateup (C)
Interchange
14. Tyreice Baira-Gela
15. Tomasi Tikonalia
16. Daniel Buckland
17. Braythen Porter
18. Braydon Ross
19. James Pere
Coach: Steve Sheppard
Trial 1 Hostplus Cup
Mendi Blackhawks V Northern Pride
6pm, Barlow Park Cairns
1. Edene Gebbie
2. Jordon Ah-One-Remfrey
3. John Cullen
4. Taniela Sadrugu
5. Iosefo Baleiwairki
6. Jake Bourke
7. Aaron Moore
8. Faron Morris
9. Oscar Carter
10. Hamilton Taia
11. Nathan Barrett
12. Justin Frain
13. Zac McMinn
Interchange
14. Tomas Chester
15. Adam Mitchell
16. Jack Johnson
17. Mitchell Grimes
18. Sam Murphy
19. Dylan White
20. Aaron Adcock
Coach: Aaron Payne