New Year's Recruits Ready to Rip In
Wednesday, January 5, 2022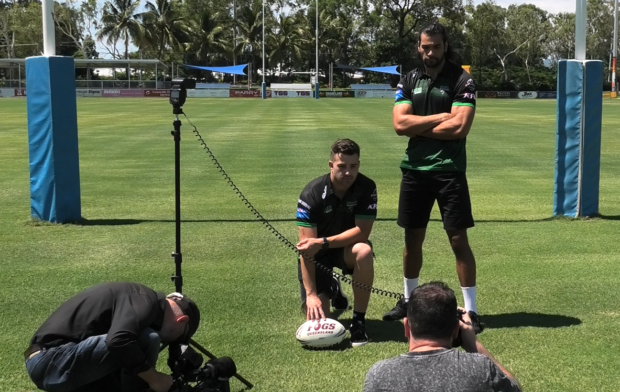 It's a happy new year at the Mendi Blackhawks with the announcement today of two new recruits.  Photo Blackhawks Media
NATHAN FERGUSON – BLACKHAWKS NEWS
Two fresh faces are eager to impress during the remainder of the Mendi Blackhawks pre-season, after arriving in Townsville yesterday.
The new recruits have bolstered the club's forwards stocks.
Football Operations Manager Adrian Thomson described both players as major signings.
"We look for guys that we think will fit into our club and you know we did a fair bit of research I've got to say, and both guys came up trumps, so we've welcomed them with open arms."
Kayleb Milne has had stints in the Storm and Sharks NRL systems and he's hopeful of earning a Cowboys call up through his Q-Cup performances. The 22 year old's determined to make the most of a fresh opportunity in a new environment.
"It's good change, a new start as well getting out of Sydney and yeah just looking forward to it."
Milne's main objective will be to make metres through the middle. He'll happily hunt for collisions when the Mendi Blackhawks don't have the ball.
"Yeah for sure; I reckon I can bring a bit of aggression in defence. I like defending. I just want to get the boys on a roll, and I'll do anything it takes."
Justin Frain faces some stiff competition to secure a spot in the Mendi Blackhawks back row but the Balmain junior is up for the challenge. The 23 year old believes he could provide something extra on an edge.
"I feel like I can offer a bit of skill, some size and aggression. So that's my main sort of thing to focus on."
Frain's frustrations with playing limited footy in New South Wales, due to Covid cancellations, led him to switch states.
"The most disappointing thing about it was we started pre-season in November and then come March you play eight games and then you're just sitting around waiting to play."
"It sort of just shoots your confidence and its difficult mentally because there were rumours that the comp was going to go ahead so we kept training, and then it got pushed back."
"That was the hard thing, just not knowing if you're going to play footy for another eight months."
While the Mendi Blackhawks have room in their roster to potentially acquire another recruit, Adrian Thomson has suggested the squad's strong enough as it is.
With another signing unlikely, he reiterated the most crucial contract was secured, at the back end of last year.
"We're very grateful our major sponsor, since day dot, even before we were in the competition, Mendi Group, they've come on board for another three years."
"So we've had some major signings announced obviously, but that's one of the big ones as well so I just want to thank Jeff and Tash Doyle for their support."