2022 Trial Dates Announced
Friday, December 17, 2021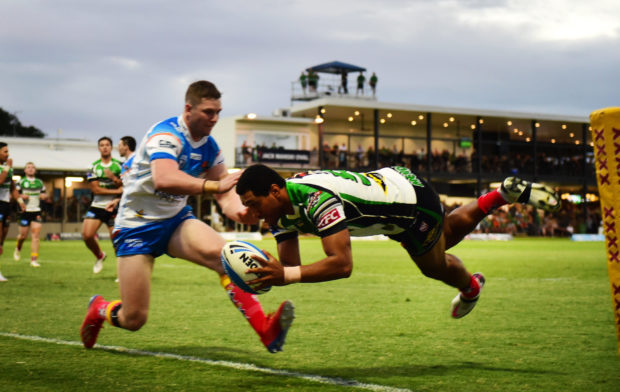 The Mendi Blackhawks have locked in 2 trial matches for 2022.  Photo Alix Sweeney
NATHAN FERGUSON – BLACKHAWKS NEWS
The Mendi Blackhawks will fine tune for the 2022 Hostplus Cup with two trials next year, before kicking off their campaign.
Townsville will take on the Pride across five grades in the Far North on March 5, with the same five teams teams travelling south, the following weekend, for a Bowen battle against Mackay, on March 12.
Mendi Blackhawks Football Operations Manager, Adrian Thomson insisted competition matches that were scheduled for Jack Manski Oval, on the same day, be taken on the road.
"We've managed to convince the QRL to take the under 19 girls, the under 18 and under 16 teams, who were drawn to play here, to Bowen, to coincide with the Hasting Deering Colts and Hostplus Cup sides, playing trials."
He's anticipating a strong turnout for the footy feast at Denison Park.
"It's right on the fringe of both areas so we hope that they support the Mendi Blackhawks more than Mackay but at the end of the day it'll be a good day of football."
Plenty of players will get their chance to impress Mendi Blackhawks coach Aaron Payne prior to him selecting his side for Townsville's round one match against Norths.
He won't be able name some key personnel though.
"There's about six or seven of our regulars that'll be sidelined from off season surgery, that won't partake in the first part of the season, so it's a good opportunity for some blokes to continue to train well and hopefully trial well, and they might find themselves in a Hostplus Cup game, in the first few rounds."
Payne's pleased the Mendi Blackhawks have locked in back-to-back trials, leading into their season opener.
"Last season, due to weather, we didn't get a traditional week off leading into the season and we started it well, so I think it's a good preparation to hit the ground running come round one."
The Mendi Blackhawks final pre-season session before Christmas will be on Wednesday next week. The squad will return to the training paddock on January five.