Lui Loves Being a Mendi Blackhawk Again
Friday, December 3, 2021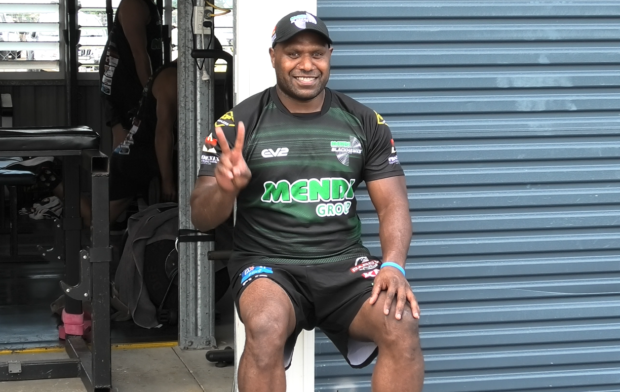 Robert Lui has returned to the Mendi Blackhawks for season 2022.  Photo Blackhawks Media
NATHAN FERGUSON – BLACKHAWKS MEDIA
Hometown hero Robert Lui has once again donned the black and green some six years after he first wore Mendi Blackhawks colours.
The halfback has returned to Townsville following stints playing for Salford and Leeds in the English Super League and he's put plans of retirement on hold, to run out in the Hostplus Cup.
The thirty-one year old says he has unfinished business in the competition.
"I left here straight after the GF when we lost to Ipswich that still burns so I'm back. We've got a good bunch of blokes that have welcomed me. I feel old but I'm ready to go," Lui said.
The former West Tiger and Cowboy admits he's still readjusting to a major climate change, in particular pre-season sessions sweating it out in the warm weather.
"First week into pre season, I hadn't trained in 3 months, it was like wow a shock to the system, especially in this heat. But I'm happy to be here. It's good to be around that Aussie environment again after six years. It was a bit of a different vibe in the UK."
Mendi Blackhawks coach Aaron Payne knows the new recruit will be just as valuable off the field as he will be on it.
"He's a very experienced player and he understands the game, you know he's a good communicator. The glimpses he's shown at training in the first week and a half have been outstanding, and I guess part of what I wanted out of Rob was a good role model for the younger players to look up to."
The playmaker's poise should help the Mendi Blackhawks overcome an inconsistency across eighty minutes, which ultimately ended their campaign in week one of the finals this year.
While Lui's main aim is to help guide Townsville to a maiden premiership, he hasn't ruled out an NRL return if a club comes calling.