Mendi Blackhawks Announce Coaching Staff for Season 2022
Wednesday, October 13, 2021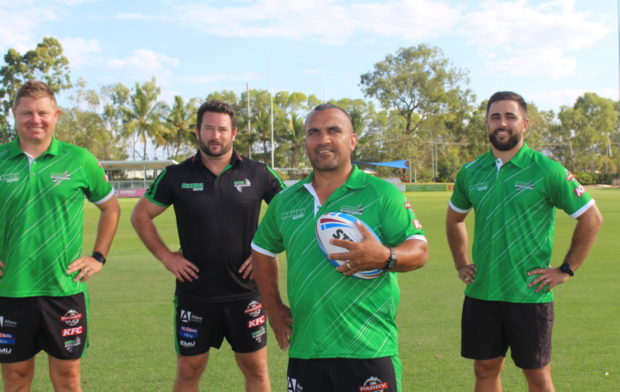 Mendi Blackhawks Coaching Staff for Season 2022 (L-R) Steve Sheppard, Aaron Payne, Roy Baira (front), Nathan Norford and missing is Rob Hall. Photo Blackhawks Media
BLACKHAWKS MEDIA
The Townsville and Districts Mendi Blackhawks have confirmed their five coaches for season 2022.
Earlier this year, it was announced Aaron Payne would be remaining in his role of Head Coach of the Intrust Super Cup team.
With the departure of Dave Elliott to the Mackay Cutters, experienced coach Steve Sheppard will take over the Hastings Deering Colts U21s in 2022, after taking the U18s to the grand final this year and was also Payne's assistant coach.
Townsville Brothers Premiership Winning Coach Royston Baira will take over charge of the Auswide Bank Mal Meninga Cup U18s.
Roy was the Mendi Blackhawks U20s assistant coach in 2018, before stepping away from the club to develop further as a coach, and returns as a premiership winner.
Harvey Norman U19s assistant coach Rob Hall is named as coach after the departure of Pete Edmonds.
Nathan Norford will stay on as coach of the Cyril Connell Challenge U16s boys.
Mendi Blackhawks Football Operations Manager Adrian Thomson was pleased with the appointments.
"As a club, we are very happy to assemble a staff of quality coaches," Thomson said.
"Rob Hall has spent this year with the girls already and will look to develop them further."
"Nathan will look to follow up and continue on what he set out with this year."
"Roy also comes back to us as a much better coach, after having his own team for two years, including winning an undefeated premiership."
"Pupp (Steve Sheppard) is an experience Intrust Super Cup coach, so to have him coach our 21s, shows our program is in really good hands."
"We pride ourselves on providing pathways for players, but this shows we also do the same for coaches."
The Mendi Blackhawks will be holding trials for the 2022 Season in January for U16s and U18s.  Registrations open November.
Intrust Super Cup
Hastings Deering Colts U21s
Harvey Norman U19 Girls
Auswide Bank Mal Meninga Cup U18s
Cyril Connell Challenge U16s