Seagulls Claim Hastings Deering Colts Title in Extra Time
Sunday, October 10, 2021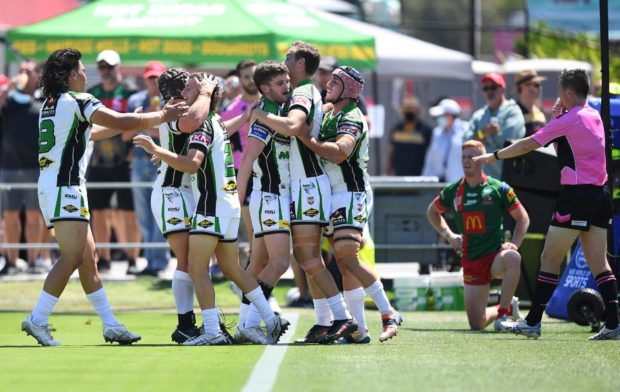 So close!  The Mendi Blackhawks U21s went down to Wynnum 16-17 in a golden point thriller.  Photo QRL Media
Jorja Brinums
QRL Lead Content Producer
Sun 10 Oct 202
Wynnum Manly Seagulls halfback Max Plath kicked a phenomenal field goal – the third attempt at a field goal across the park during extra time – to secure the Seagulls the 2021 Hastings Deering Colts title.
Thousands packed into Moreton Daily Stadium were on the edge of their seats as the game went into extra time, with the Seagulls and Townsville Mendi Blackhawks locked at 16-16 at full-time.
Seagulls fullback Ben Farr was named Hastings Deering player of the match for his efforts, which included one try in the third minute, which were the first points of the game.
Wynnum Manly coach Michael Dobson, visibly ecstatic, said "what a game".
"We had a pretty poor first half. In the second half, we really dug in there. Again, we weren't at our best, but to come away with a result like that is outstanding," Dobson said.
"I'm just proud. I make them practice that bullseye every captain's run. Doesn't always come off, but today it came off. I'm absolutely proud of them."
Dobson said the standout moment for him was definitely the field goal.
"Maxxy Plath, to come back from an ACL and kick the winning field goal in extra time… nothing beats that," Dobson said.
Mendi Blackhawks coach David Elliott said "what a game to finish the year".
"Fitting, one versus two, right down to the wire… we thought it would be close, but to finish like that, it was a really good representation for what the comp is," Elliott said.
"To my blokes, Tom Chester… his couple of tries there… just his will to win… I thought he was really good in a beaten side. It was a very close contest."
Mendi Blackhawks Tries:
Jesse Yallop 11′
Tomas Chester 23′
Tomas Chester 71′
Conv: 2/3
Zac Laybutt 24′
Zac Laybutt 73′
MORE TO COME