U21s Grand Final Match Preview 2021
Thursday, October 7, 2021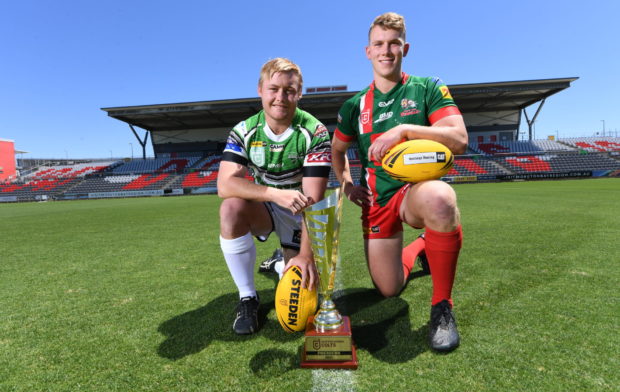 2021 Mendi Blackhawks U21s Grand Final Preview.  Photo QRL Media
Colleen Edwards, QRL Content Producer
Thu 7 Oct 2021, 07:39 AM
It's the biggest game of the year for the Wynnum Manly Seagulls and Townsville Mendi Blackhawks, but both sides were focused on keeping their preparations simple in the lead up to the 2021 Hastings Deering Colts grand final.
The two sides won their way into the this year's decider in contrasting styles, with Wynnum Manly coming out on top in a tough and physical encounter against Redcliffe Dolphins, while the Mendi Blackhawks were on their game in a high-scoring victory against Sunshine Coast Falcons.
"We have tried to forget about what's happened last week… Wynnum Manly are a different team and they are strong through the middle, so we have to be up for that again," Mendi Blackhawks captain Curtis Dempsey said.
"At training on Monday, (coach) Dave (Elliott) said 'we'll just say it once, but it's just another game of footy for you, so let's treat it like a normal week'.
"We have had a lot of injuries this year and we have had to be very versatile as a squad, but whoever is in our squad, we have been pretty confident in; whoever is in our squad is going to come in and do a job."
Wynnum Manly claimed this year's minor premiership in dominant fashion, but were made to earn their place in the grand final the hard way after suffering a shock loss to the Sunshine Coast Falcons in the opening weekend of finals.
Seagulls captain Jacob Sturt-Tobin said the loss was "a good wake-up call" that helped his side reset their goals after finishing at the top of the table in the regular season.
"Obviously, first round of finals, was a bit of a shock, but definitely a good shock… Sunny Coast came out and they gave it to us, we needed that and that was a good wake-up call," Sturt-Tobin said.
"I think our attitude has just switched completely since our first session of that week following, so everyone is definitely ready for this weekend.
"(Last weekend against Redcliffe) was tough for the full 80 minutes, obviously they came at us really hard again and in the second half, in that last 20, we were only up six and so it really put us in the arm wrestle.
"They were kicking into our corners really well, we were bringing the ball out from our own end for the last 10 minutes and it was tough and obviously, we got away with it in the end, but I thought it was really good the boys got ready with that tough sort of footy and we will probably see more of the same this weekend and it's good that we have had it already, grand final type of footy."
Both sides are looking forward to being part of Intrust Super Cup grand final day and the captains said they were grateful for the support of their clubs and fans throughout the season.
"It's our first (grand final) for a while, the whole club is excited, they have all been there for us," Dempsey said.
"The fan base back in Townsville is ridiculous, it's really good, it's something I have never experienced before."
For Sturt-Tobin, having both the Hastings Deering Colts and the Intrust Super Cup teams feature in the season finales added to the positive vibe around the club.
"It's good, everyone is really excited, obviously with both teams in, everyone is primed and ready for a big one this weekend," Sturt-Tobin said.
"It's awesome, you hear a lot of stories about what 2019 was like just here at Moreton Daily Stadium – it got packed out in the stands here, like the Chook Pen, so pretty excited to see what it will be like on Sunday."