Finals Week 3 Team Lists
Wednesday, September 29, 2021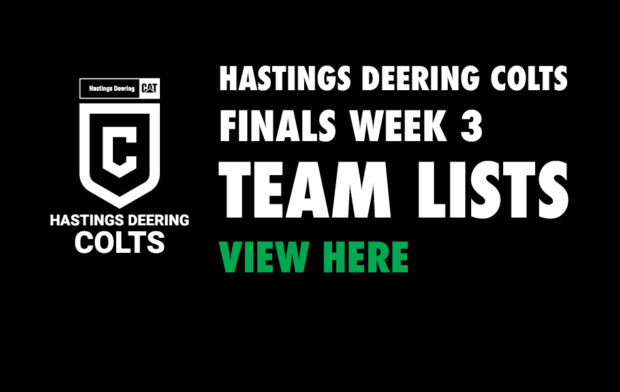 The Falcons and Mendi Blackhawks will be first to face off at Moreton Daily Stadium on Saturday afternoon.
Townsville conquered Souths Logan Magpies last week with a 26-6 win. The Mendi Blackhawks enjoyed 54 per cent of the ball and produced nine linebreaks; however, they will be keen to reproduce the defensive effort which saw them restrict their opposition to zero line breaks.
The Mendi Blackhawks scrambled well and prevented the Magpies from scoring until the 66th minute.
At the centre of that was the effort of Jordan Lipp who produced 289 metres and a try. Zachery McMinn was a key part of Townsville's great defence, making 32 tackles in the game.
Lipp is a try-scoring wizard for the Blackhawks and has amassed 16 so far this season.
The two teams have played once this season with the Falcons claiming a 12-10 win in Round 3.
Townsville coach Dave Elliott said he and his team were ready for the Falcons.
"Our defence was really good against the Magpies, we missed some tackles, but we were desperate and wanted to keep our line," Elliott said.
"Magpies have plenty of points and to keep a team that scored 70 the week before to six is a great effort.
"I will be looking for that desperate defence again.
"What we do need to control is the ball, when and where we give it to the Falcons."
The Falcons haven't played since their win over Wynnum Manly 36-16 in Week 1, with the win earning them a break in Week 2.
Falcons coach Jamie Vogler thought the centres would play a big role in deciding how the grand final qualifier would be won.
"I think both centres have been terrific this season; the Blackhawks' two centres make metres all game," Vogler said.
"Lipp and (Zac) Laybutt have caused problems for everyone, but I think our two centres Jack Aiken and Kane Jackson have been great.
"Our hooker Nick Ellems has been an attacking danger the last month and our fullback Blake Wilson."
Vogler was unsure of the impact the week off would have on the Falcons – or if beating Wynnum Manly in their opening final would put a target on the backs of the young Falcons.
"We are not going to know if the week off has helped us or hindered us until Saturday, but we have had a chance to freshen up and get over some niggles," Vogler said.
"We are still the premiers from 2019, so I don't think beating Wynnum (Manly) made people sit up too much, Wynnum (Manly) are the best team all year; how we played that game is our standard, but I think people see the Falcons and want to knock off the premiers too."
The Dolphins and Wynnum Manly are the second preliminary finals game and these two traditional rivals will be wanting to make sure they're playing next week.
BLACKHAWKS MEDIA
Best of luck to our Mendi Blackhawks U21s for week 3 of the Hastings Deering Colts preliminary finals this Saturday.
The team travel to the Moreton Daily Stadium to take on the Sunshine Coast Falcons in an elimination final.
Kick off is 4pm Saturday.
The game will be broadcast LIVE from 3:45pm at QRL.com.au, Intrust Super Cup app, QRL Facebook and Kayo Freebies
Good luck team!
Team List: n

Finals Week 3 Hastings Deering Colts
Mendi Blackhawks v Sunshine Coast Falcons
Saturday October 2, 4pm
Moreton Daily Stadium, Redcliffe
1 Tomas Chester
2 Jesse Yallop
3 Zac Laybutt
4 Jordan Lipp
5 Ethan Hagarty
6 Jake Bourke
7 Aaron Moore
8 Hamilton Taia
9 Curtis Dempsey (c)
10 Brayden Ross
11 Joey Jensen
12 Zac McMinn
13 Tyson Chase
Int
14 Joel Baldwin
15 Tyreice Baira-Gela
16 Tai Laidlow
17 Cameron Bateup
Coach: Dave Elliott
Good luck team! 🍀