Wynnum Manly Prevail in Tough Clash with Townsville
Sunday, September 12, 2021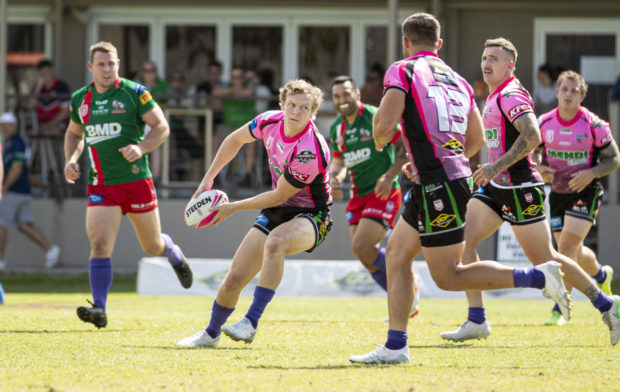 RD 17 Mendi Blackhawks v Wynnum Manly.  Photo Alix Sweeney
Amelia Pattel
Blackhawks Media
Sat 11 Sep 2021
The Townsville Mendi Blackhawks hosted Wynnum Manly Seagulls at Jack Manski Oval for the Round 17 fixture in a highly anticipated game, the first between the clubs for nearly two years.
This round was specifically special for the Mendi Blackhawks as they celebrated Women in League and was the first time the side has played on their home soil since late July due to postponement from COVID-19.
The first half was very high paced with intense energy from both sides, but Selwyn Cobbo put Wynnum Manly Seagulls on the board in the fourth minute. Jack Campagnolo added the extras for a six-point lead.
After a wealth of possession, the Mendi Blackhawks scored through Kalifa Faifai-Loa with a successful conversion from Shaun Nona, levelling out the scores at the 10-minute mark.
The Seagulls hit back through their captain Sam Scarlett in the 15th minute with another successful conversion.
Two high shots from the Seagulls' Issac Luke saw him sent to the bin and allowed the Blackhawks to score through Riley Price in the 29th minute, levelling out the scores once again.
Despite being a man down, the Seagulls scored the last try of the first half through Kalolo Saitaua in the 36th minute, giving a half-time score of 18-12.
Luke redeemed himself on his return to the field to score the first try of the second half in the 47th minute with a successful conversion extending the lead of Wynnum.
In the 52nd minute, Mendi Blackhawks player of the year Josh Chudleigh took a scoot from dummy half and put his team back in the contest, with Carlin Anderson taking over the kicking duties to put his team back in striking distance.
However, in the 56th minute the Mendi Blackhawks were unable to keep their opponents out as Delouise Hoeter scored for Wynnum Manly Seagulls with Campagnolo continuing his perfect kicking streak.
With pressure building on the Mendi Blackhawks, Michael Bell scored in the 74th minute but Anderson was unable to add the extras.
An escort from the Seagulls allowed Anderson to convert a penalty goal, bringing the Seagulls' lead to only a converted try difference and ensuring an enthralling finish.
Despite the best efforts of the Mendi Blackhawks to force a draw, the Seagulls were victorious with a final score of 30-24.
Whilst disappointed with the result, Mendi Blackhawks coach Aaron Payne said he was pleased with his team's effort, but could see where he needed to build going into finals.
"The effort was certainly there… we're just struggling at the moment to put an 80-minute performance together," Payne said.