RD 19 Match Report: Mendi Blackhawks Prevail in North Queensland Derby
Monday, August 30, 2021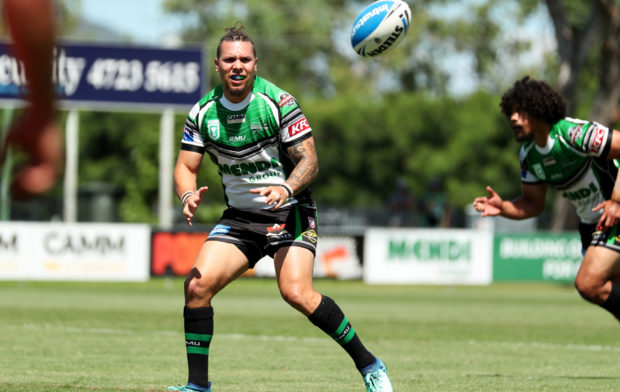 The Mendi Blackhawks returned in form to defeat the Cutters 28-10.  Photo Alix Sweeney (RD 2)
John Bartley, Mackay Cutters Correspondent
Sat 28 Aug 2021
Townsville Mendi Blackhawks strengthened their push for an Intrust Super Cup finals berth with a gritty 28-10 victory over Mackay Cutters at BB Print Stadium.
Cup football returned after its mandated COVID-19 break, and both teams looked eager and refreshed early, Mackay hanging with their rivals for the majority of the first half, before errors and weight of possession would ultimately be their undoing.
Townsville proved too strong in the end, maintaining their undefeated streak in Mackay in the process.
An early Cutters mistake would give Townsville prime attacking position, only needing a handful of tackles as Kalifa Faifai-Loa swept down the left flank off the back of a quick shift to give them the lead.
But the Cutters would hit back a few sets later, a fumbled bomb seeing Jake Riley coming up with the crumbs as Jack Quinn's conversion edged the home side in front.
The Mendi Blackhawks would strike back through five-eighth Kyle Laybutt, as he chased his grubber kick through the Cutters defensive line and planted it down inside the dead ball line with a great effort.
Crucially, the Mendi Blackhawks would find breathing space on the stroke of half-time, as weapon Josh Hoffman strolled through a gap on the Cutters try line to give the visitors a 14-6 lead at the break.
Townsville would pick up where they left off in the second half, centre Michael Bell linking up with his outside man on a break down the right flank as they pushed beyond two converted tries in front.
However, the Cutters weren't about to lie down, chancing their arm on a pin-point cross field kick that found the arms of Buchanan Rawhiti, who got a brilliant flick pass back inside to Josh Smith to close the gap to 10.
A late flare-up would see Townsville slot a penalty goal for an even 12-point lead, and would seal the result in the final seconds when substitute Jaelen Feeney streaked away untouched.
"It's the game we needed (at this stage of the season), we've never had an easy game here," Townsville coach Aaron Payne stated post-match.
"Full credit to Mackay, they're young and inexperienced, but they were gritty and kept coming at us. We let them into our end a bit cheaply, but it certainly gives us something to work on.
"We came into tonight with three possible results, including a top four finish if results went our way, and the boys knew how important tonight was and we turned up with the right attitude."
Mendi Blackhawks will face Tweed Seagulls next.
Mendi Blackhawks Tries: Kalifa Faifai-Loa 3′, Kyle Laybutt 25′, Josh Hoffman 38′, Michael Bell 42′, Jaelen Feeney 78′ CONV: Shaun Nona 3/5
In the earlier game the Mendi Blackhawks U21s defeated the Mackay Cutters 52-18.
Mendi Blackhawks Tries: Jake MCDONNELL-MARA 5′, Zinzaan Martin 11′, Benn Campagnolo 38′, Dylan White 40′, Benn Campagnolo 45′, Jesse Yallop 50′, Dylan White 56′, Jake Bourke 67′, Jordan Lipp 72′, Jordan Lipp 77′ CONV: Dylan White 6/10