2021 Mendi Blackhawks Presentation of Awards Evening
Friday, August 27, 2021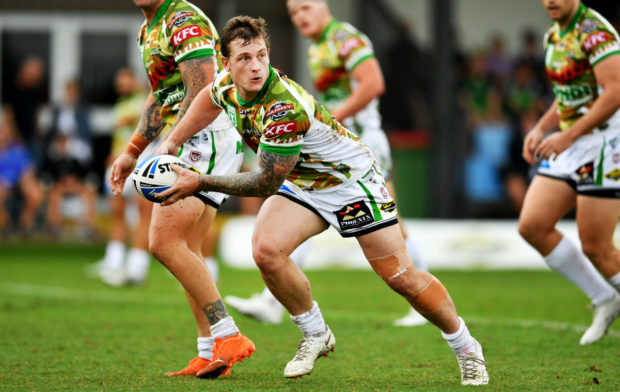 Josh Chudleigh has won the 2021 Mendi Player of the Year. Photo Alix Sweeney
BLACKHAWKS MEDIA
With three rounds remaining in the Intrust Super Cup, Josh Chudleigh has been named the 2021 Mendi Blackhawks Player of the Year at the club Presentation of Awards night last night.
The awards night was originally booked in at the start of the year for what was supposed to be before the final round of the regular season, but due to COVID-19 lockdowns the season has been pushed back.
Football Operations Manager Adrian Thomson said that the decision was made to stay with the same date.
"Our presentation was going to be just before our final round, but COVID had other plans for us."
"Josh was so far ahead on points that no one was going to catch him, so we decided to stay with the same date." Thomson said.
"We are just happy to be playing and the season is still going."
Coach of the Mendi Blackhawks Aaron Payne praised his number 9 saying that Chudleigh typifies the kind of player teammates want to play with.
"Josh has had a fantastic year, and deserves this award." Payne said.
"He is super reliable, consistent, punches out big minutes in the middle and is always competing."
"And defensively he always sures up our middle."
"From a coach's perspective, he's the complete package."
"He is great to coach, always a threat to the opposition and as tough as they come."
"Our players also picked him Players Player, the player they most want to play with,"
"And that's a good example of why he got the award and why he is so important to our group."
"His teammates know what they are going to get from him every week."
Award Winners:
Intrust Super Cup
2021 Mendi Player of the Year – Josh Chudleigh
2021 Players Player – Josh Chudleigh
2021 Best Forward – Josh Chudleigh
2021 Best Back – Jaelen Feeney
Hastings Deering Colts U21s
2021 Player of the Year – Jake Bourke
2021 Players Player – Mitch Fogarty
2021 Best Forward – Joey Jensen
2021 Best Back – Dylan White
Harvey Norman U19s Girls
2021 Player of the Year – Jordi-Rae Mahendrarajah
Auswide Bank Mal Meninga Cup U18s
2021 Player of the Year – Will Latu
Cyril Connell Challenge U16s
2021 Player of the Year – Jamal Shibasaki
Cr Russ Cook Community Award
2021 Winner – Larry Seri