Happy Nona Aims to Add Townsville Premiership Win to His Tally
Wednesday, August 18, 2021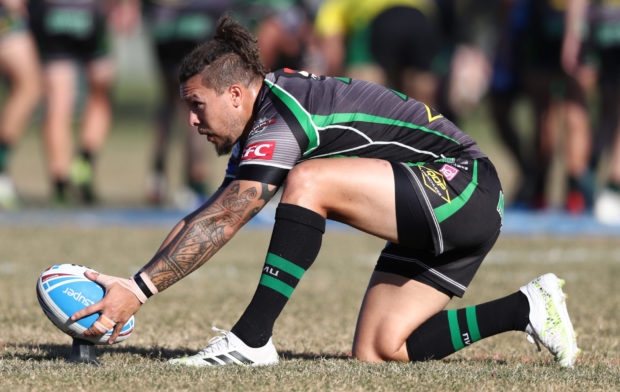 Shaun Nona lines up another conversion for Townsville Blackhawks. Photo: Jason O'Brien / QRL
Colleen Edwards, QRL Content Producer
Mon 16 Aug 2021
Growing up, all Shaun Nona wanted to do was play for his hometown team, the mighty Tully Tigers.
The talented half ended up doing that and more, winning a premiership with the side that then led to a train-and-trial with the Northern Pride, which went on to launch an enviable Intrust Super Cup career.
"I grew up in Tully, the home of big Flegs (Thomas Flegler) and Cliffo (Jake Clifford)… I spent every Saturday, every home game Tully had, down at the showgrounds running around, that's where I fell in love with the sport," Nona said.
"I had a lot of family, uncles and that, playing for Tully, and as I was growing up, it was a bit different for myself… I didn't really want to play in the NRL, I just wanted to play for Tully when I was a kid, and that was because of the environment I was around, I just wanted to play with my family and play for the Tully Tigers.
"I was very luck I was able to win a premiership with Tully and got an opportunity to do a train-and-trial at the Northern Pride and that's how I got my foot in the door.
"I enjoyed my time up in Cairns with the Pride… the senior fellas at the time were very good and helped my with my game at the time and obviously, when (coach) Jason Demetriou came to the club, he was a big factor in changing the way I play and the way he coached suited my style of football which was good."
Now at the Townsville Mendi Blackhawks, with the team playing well in recent times and pushing to go far in this year's finals, Nona has plenty of experience to draw from in his quest to add to his premiership tally from both the Intrust Super Cup and NSW Cup competitions, having played with a number of clubs across the competitions as well as being part of various NRL systems during his career including the Brisbane Broncos and St George Illawarra Dragons.
This vast experience is something he is sharing with the younger players coming through the club.
"My first NRL club I was in a system with was Melbourne Storm and that was a big learning curve for myself, just how professional they are – I had never been in a full-time system before and it was a big shock to me personally," Nona said.
"Patience is mainly the main message I try and give to those boys that come through our system, patience is key, don't try and rush where you are trying to get to.
"I think everything happens when it is meant to happen, so you just have to keep chipping away and when it does, take it with both hands.
"I think I fell into that trap, wanting things to happen straight away, but I don't have any regrets and I am enjoying my footy still now."
While missing the action on the field at the moment, the hiatus in the competition has come at a good time for the Nona household, with arrival of their second child in early July.
"My wife actually gave birth to our second kid at the start of July, so I have been busy being a dad over the last three weeks," Nona said.
"With no footy, I have just been able to help out more around home, which is good.
"(With two kids now) I love being with them and spending as much time with them, but when I do have spare time, I play a little bit of golf or do a bit of fishing, it's a good way to get away from the game."
Nona – who also works as a teacher aide at Shalom Christian College – said while the Mendi Blackhawks were "a bit rusty" to start the year, they had started to find some good form and were hoping to continue that deep into September and beyond, with news of the extension of the competition coming earlier this week.
"As the year has gone on, we have started to find our feet and we did manage to string together five strong wins there and get some momentum," Nona said.
"Then we obviously came up against Norths who are sitting at the top of the ladder for a reason… they have been very consistent and very professional throughout the year, we probably didn't play to our best that day, but hopefully we get to play them again in the finals.
"I think when you play the top sides on the ladder you want to play at your best, and they are the games you look forward to throughout the season."
With a career that has seen him play more than 100 Cup games across four clubs, plus a few seasons in the New South Wales competition, Nona has found a home for himself and his family in Townsville and they have all been enjoying their time with the team.
"I like Townsville, I like the club, I like going to training, the group of boys that we have at our club and the coaching staff make it enjoyable… Townsville is home for me and my family," Nona said.
"My son is actually a mad Mendi Blackhawks supporter, so I think he's missing footy more than I am at the moment.
"I love this game and hopefully we can finish this year on a high."