More Payne is Good for the Mendi Blackhawks
Friday, August 13, 2021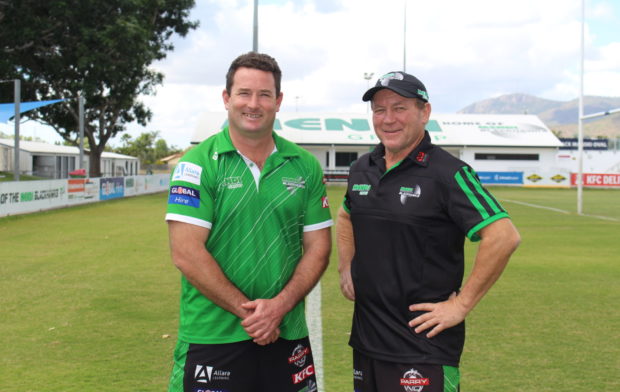 Aaron Payne has signed a one year extension as head coach of the Mendi Blackhawks.  Aaron is pictured with Football Operations Manager Adrian Thomson.  Photo Blackhawks Media
BLACKHAWKS MEDIA
The Townsville and Districts Mendi Blackhawks have today announced they have extended Head Coach Aaron Paynes contract for a further 12 months.
A former Townsville Centrals Junior, Payne played 219 NRL games with the North Queensland Cowboys, including the 2005 Grand Final, is a Cowboys Life Member and in more recent times was NRL Assistant Coach, NYC and Academy coach.
Payne took over the vacant Head Coach position at the Mendi Blackhawks in 2019 from inaugural Coach Kristian Woolf.
"Being from Townsville, I am passionate about the area and to be able to do what I love in my hometown is fantastic." Payne said.
"It was a no brainer to sign on for another twelve months, it not only gives myself and my family some security, but also my priority at the moment is for the Mendi Blackhawks to be as successful as possible."
"And to develop as many kids to the top as possible, that's my role."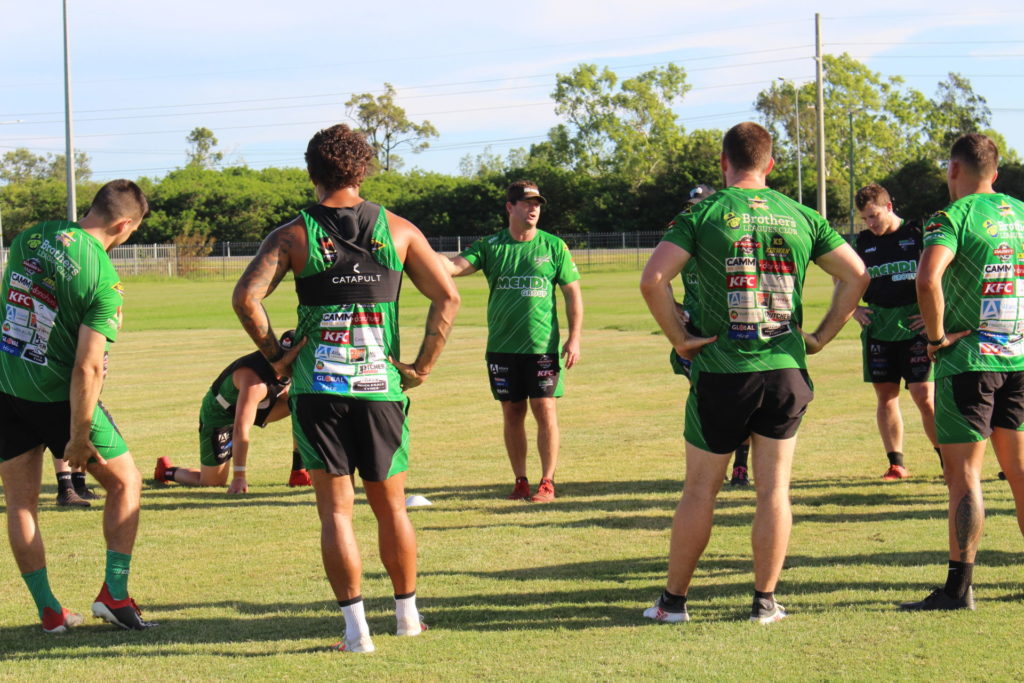 "Certainly down the track I would love to coach an NRL side, but that is not high on my priorities list,"
"When you get to the top of coaching in the NRL, there is only one way to go, so for now I'm just learning as much as I can and really enjoying it."
"The mentality of the entire group has been fantastic,"
"Whatever hurdle has been put in front of them they jump it."
"Every team has been effected, but it's the teams that have handled the situations the best and can keep the momentum going towards this back end of the season are the ones that are going to figure in the finals, and we think we've done that."
"We are preparing to put ourselves in the best position come finals time."
After what has been a disruptive two seasons for the Intrust Super Cup, Football Operations Manager of the Mendi Blackhawks Adrian Thomson said Payne's extended contract will provide the players and club with stability.
"We are excited to announce Aaron's signing for further 12 months," Thomson said.
"He ticks all the box's in what we want in a coach, being a local, former Cowboys player and Life Member, and add to that he's a very good coach."
"Aaron has done a great job keeping the squad together in what's been happening in the last 18 months."
"He has kept the team in shape, enthusiastic and focused on what we are about as a club."
"Aaron also handles the staff really well and they respond positively to him."
"We would extend Aaron for another five years, but we know will get an NRL gig or be off somewhere in the not too distant future."
The club has also farewelled Dave Elliott, who this week signed as Head Coach of the Mackay Cutters for 2022.
"Dave has been an integral part of our club since day one," Thomson said.
"He first started as Assistant Coach to Kristian Woolf, then took over as head coach of our Hastings Deering Colts U21s, and has had very good success with them."
"Dave has earnt his stripes as a coach and it's good to see him get this opportunity,"
"We want to thank Dave and wish him all the best."
The Mendi Blackhawks will be naming a new U21's coach from within the club in the coming days.