RD 12 Match Report
Sunday, July 25, 2021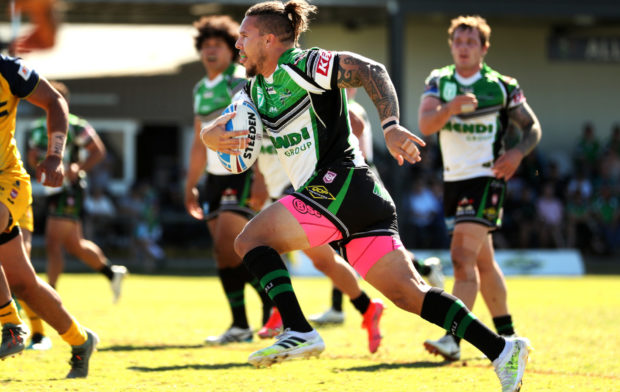 Shaun Nona, Round 12 of the Intrust Super Cup. Photo Alix Sweemey
Amelia Pattel -Blackhawks Media
The Townsville Mendi Blackhawks took the North Devils back to their round 12 fixture to make up for the postponed match earlier this month due to COVID-19.
The North Devils continue their winning streak as the Mendi Blackhawks face their first loss since round eight.
Norths were first to put points on the board through Connor Broadhurst in the opening minutes with Broadhurst converting his own try.
Norths shortly extended their lead in the 10th minute through Rashaun Denny and followed by a successful conversion attempt.
Patrick Kaufusi was the able to give the Mendi Blackhawks their first try with Shaun Nona unable to add on the extra points.
North Devils fullback, Matthew Milson broke their try scoring drought, scoring their first try in over 20 minutes.
The score was left at 18-4 after the first 40 minutes with the North Devils in the lead.
"Every time we look to build pressure on them, we release it," Head Coach Aaron Payne said about his team's performance in the opening half.
"Our body language wasn't great, but were keeping in the game."
With the second half underway, Norths kept up their intensity by scoring through Jacob Gagan and extended their lead but not able to add on the extra points.
A series of errors by the Norths gave the Mendi Blackhawks a chance to comeback with Sione Lousi crossing under the sticks and Nona successfully raising the flags.
A penalty for Norths allowed them to take shot at goal, successfully pushing their lead slightly more in front.
Despite all the defensive efforts from the Mendi Blackhawks, it wasn't enough to keep their opposition out with Rashaun Denny getting his second try of the day.
Carlin Anderson broke the Norths defensive line scoring under the posts in an individual try, making the conversion an easy job for Kyle Laybutt to add on the extras.
An injury to Mendi Blackhawks lock Jordan Kenworthy late in the game ruled him out for the remainder of the game.
A field goal from Norths Halfback Jack Ahearn ensured that the game was well in the Norths favour as they began to close out the game.
The Mendi Blackhawks weren't finished just yet with Sam Martin-Savage stripping the ball to score on the breakaway with Kalifa Faifai-Loa quickly converting to attempt salvage the match.
Just as the siren sounded, Mendi Blackhawks prop Joe Boyce was sent to the sin bin as the North Devils came off victorious with a final score of 29-22.
The Mendi Blackhawks welcomed back Michael Bell to their side after coming back from the North Queensland Toyota Cowboys and Riley Price returning to Jack Manski Oval after an injury spell back in round 5.
The Mendi Blackhawks will host the Ipswich Jets at home and the North Devils are to play the Brisbane Tigers.
Earlier Results:
The Mendi Blackhawks Hastings Deering Colts U21s defeated the Souths Logan Magpies at Davies Park 36-18.