RD 14 Match Report: Townsville Prevail in Tough Encounter
Monday, July 19, 2021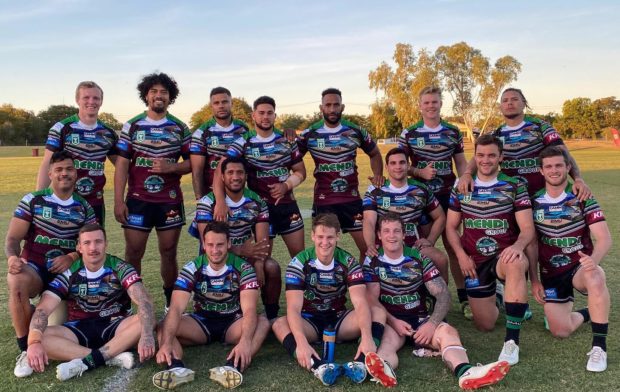 Simon Rathbone
QRL Correspondent, Sat 17 Jul 2021
Townsville Mendi Blackhawks posted their fifth straight win after coming out on top with a gruelling 28-18 victory over a physical Souths Logan Magpies outfit during their Activate! Queensland Country Week match at Charlie Wehlow Oval.
Despite falling behind on the scoreboard early with Souths Logan playing well to post a try in the second minute thanks to Ezra Mam and then Benaiah Bowie, the Mendi Blackhawks then piled on four consecutive tries, with Josh Hoffman scoring their second in what was his first starting berth at fullback since Round 5.
In what was a physical game played in windy conditions, both sides showed plenty of fight and grit throughout the middle third of field which allowed the outside backs to shine out wide.
Rookie Magpies half Mam scored a double, which now takes his try scoring tally to a remarkable five tries from six games.
Mendi Blackhawks halfback Shaun Nona was only able to convert one of his four conversion chances in very difficult conditions; but certainly made up for it with the ball in hand, crossing for a second half try that helped lift his side to victory.
Speaking after the match, Townsville Mendi Blackhawks coach Aaron Payne said that while his side wasn't at their best, he was pleased with their ability to overcome adversity and still find a way to register the two-points.
"It wasn't our greatest performance, but there's still plenty of positives to take out of it as despite our energy being down, our resilience was good and we found a way to win," Payne said.
In a brutal game that saw a number of players leave the field with nasty head knocks, the Mendi Blackhawks win was slightly soured by a shoulder injury to centre Bacho Salam in the 62nd minute.
Having endured a four-game losing streak between Round 3 to Round 6, Townsville's victory today will now see them sit one win ahead of the Magpies on the ladder heading into the backend of the season.
"Between Rounds 3-6 we were finding ways to lose, but now we are finding ways to win again which is good to see and certainly when you get those wins when you're not at your super best, it's definitely pleasing," Payne said.
The Mendi Blackhawks coach said the chance to play in the town of Richmond, located just west of their home base Townsville, was an opportunity both the staff and players relished.
"We are really happy to be a part of the Country Round and to be somewhere we consider part of our footprint is really good and have a great game of footy for the people of Richmond," Payne said.
The Mendi Blackhawks will look to extend their winning streak when they take on the Norths Devils next week at Jack Manski Oval next Saturday in their postponed Round 12 match.