RD 14 Country Week – Team Named
Wednesday, July 14, 2021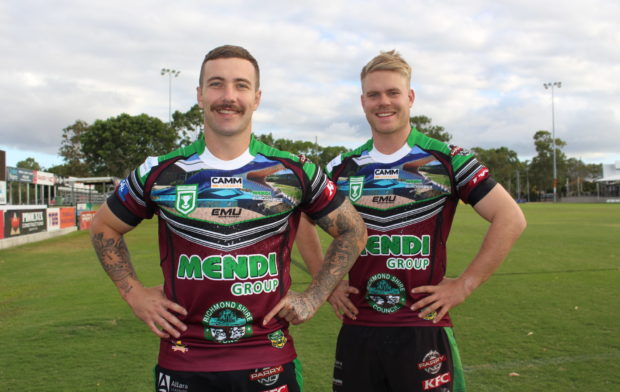 Joe Boyce and Sam Murphy in the specially designed jerseys the Mendi Blackhawks are wearing in Richmond for Country Week.  Photo Blackhawks Media
BLACKHAWKS MEDIA
'Activate! Queensland' Country Week is finally here and all seven round 14 Intrust Super Cup matches are heading to regional Queensland.
The Townsville & Districts Mendi Blackhawks will play their match in Richmond, home of the mighty Richmond Tigers, and will take on the Souths Logan Magpies.
Coming off 4 straight wins, including a gutsy effort against the Northern Pride last weekend, the team is looking forward to heading west.
Coach of the Mendi Blackhawks Aaron Payne visited the north western region recently, during the June bye round, and said the whole region is buzzing with anticipation of the game.
"Richmond is a part of our footprint so we know a lot of the good people from out there," Payne said.
"The volunteers work hard to keep regional teams playing Rugby League, so it's nice to n be able to give something back to them."
"We would like to thank the Queensland Rugby League and Queensland Government for giving us this opportunity."
To mark the occasion, the Mendi Blackhawks will be wearing specially designed jerseys that incorporates the town of Richmond.
Round 14 Intrust Super Cup Schedule
Saturday
• Sunshine Coast Falcons v Tweed Seagulls, 2.10pm Murgon (home of the Murgon Mustangs). Broadcast: (exclusive on Kayo Freebies)
• Burleigh Bears v Wynnum Manly Seagulls, 2.15pm Chinchilla (home of the Chinchilla Bulldogs)
• Redcliffe Dolphins v Ipswich Jets, 3pm John Waugh Park, Quilpie (home of the Quilpie Magpies)
• Souths Logan Magpies v Townsville Districts Blackhawks, 4pm Richmond (home of the Richmond Tigers)
• Mackay Cutters v Norths Devils, 5pm Dysart (home of the Dysart Bulls)
• Northern Pride v PNG Hunters, 5.30pm Atherton (home of the Atherton Roosters)
Sunday
• Brisbane Tigers v CQ Capras, 2.10pm Gladstone (home of Rugby League Gladstone, playing out of Marley Brown Oval). Broadcast: (Kayo Freebies, 9Now, QRL.com.au, Intrust Super Cup app, Intrust Super Cup Facebook)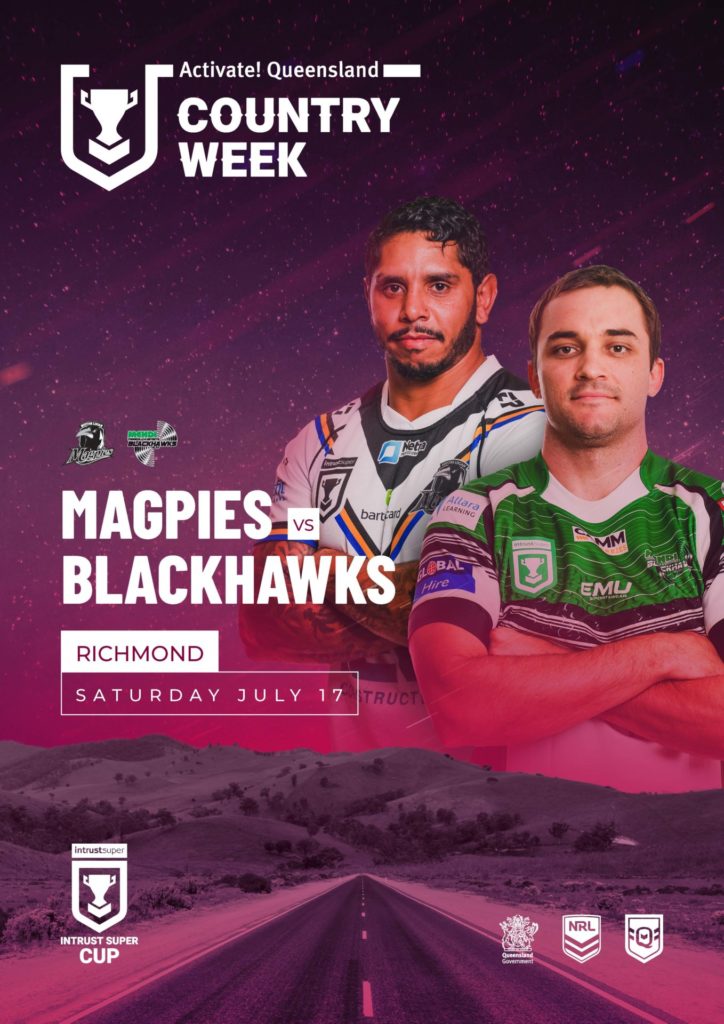 Round 14 Intrust Super Cup
Mendi Blackhawks V Souths Logan Magpies
Saturday July 17, 4pm
Charlie Wehlow Oval, Richmond
1 Josh Hoffman
2 Michael Carroll
3 Carlin Anderson
4 Bacho Salam
5 Kalifa Faifai-Loa
6 Shaun Nona
7 Aaron Moore
8 Joe Boyce
9 Josh Chudleigh
10 Sam Hoare (c)
11 Kieran Quabba
12 Patrick Kaufusi
13 Jordan Kenworthy
Int
14 Sam Martin-Savage
15 Sam Murphy
16 Nick Brown
22 Sione Lousi
17. Moses Meninga
Coach: Aaron Payne j
Mendi Blackhawks U21s BYE ROUND
Good luck team!