Harvey Norman Queensland Under 19s Named
Thursday, June 17, 2021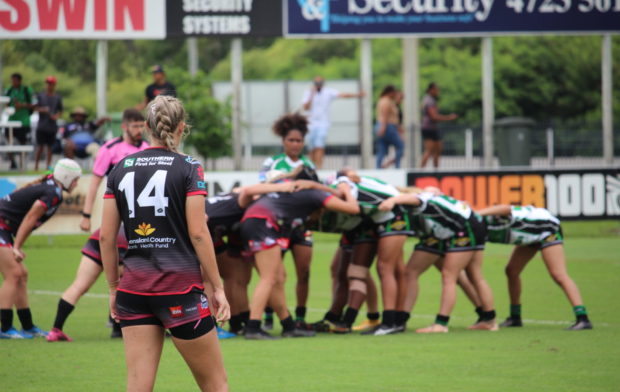 The Harvey Norman QLD U19s team has been named.  Photo Blackhawks Media
Michael Hillier, QRL Media
Thu 17 Jun 2021
Harvey Norman Queensland Under 19 coach Kelvin Wright has today named his team to play New South Wales.
The interstate clash will feature some of the game's leading talent who will now gear up to showcase their skills before the senior Ampol State of Origin match at Sunshine Coast Stadium.
The young Queenslanders will come together on the Sunshine Coast on Sunday to prepare for the June 25 clash.
Wright will be supported by Central Queensland Capras head coach Amanda Ohl and former representative player Deanna Turner.
Harvey Norman Queensland Maroons Under 19s
Zoe Cook – Mackay Cutters
Jetaya Faifua – Burleigh Bears
Jada Ferguson – Tweed Seagulls
Traevonnah Fisher – Wide Bay Bulls
Fiona Jahnke – West Brisbane Panthers
Keilee Joseph – Sydney Roosters
Ebony Laing – Burleigh Bears
Hannah Larsson – West Brisbane Panthers
Jordii Mahendrarajah – Townsville Blackhawks
Tyesha Mikaio – West Brisbane Panthers
April Ngatupuna – West Brisbane Panthers
Emmanita Paki – Central Queensland Capras
Jasmine Peters – Mackay Cutters
Nakita Sao – West Brisbane Panthers
Sara Sautia – West Brisbane Panthers
Courtney Tamati (Sydney Roosters)
Jazmon Tupou-Witchman (Sydney Roosters)
Makenzie Weale (West Brisbane Panthers)