RD 9 Match Report
Monday, June 7, 2021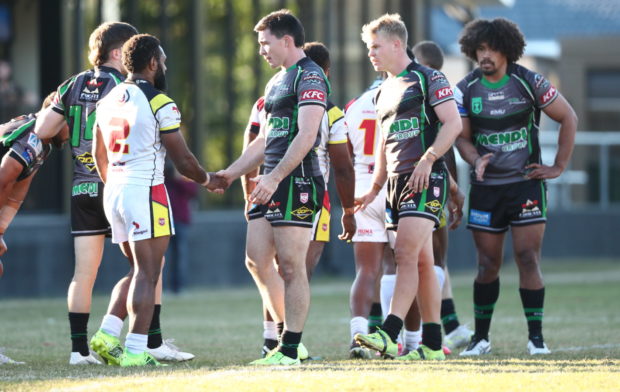 Mendi Blackhawks outclass spirited Hunters. Photo Jason O'Brien QRL
Michael Crutcher, PNG Hunters Correspondent & Blackhawks Media
Sat 5 Jun 2021
The Papua New Guinea Hunters unleashed the attacking spark that fuelled their early season winning-streak but they couldn't hold the Townsville Mendi Blackhawks in a high-scoring 38-28 loss at Bycroft Oval.
The Hunters piled on six tries but a crucial 10-minute period in the second half opened the door for the Mendi Blackhawks to push clear in the Round 9 Intrust Super Cup clash.
With prop Samuel Yegip sin-binned, the Mendi Blackhawks scored three tries to move out of reach of a Hunters team that only converted two of their tries.
The Hunters had scored fewer than 20 points in their last four matches but they clicked again today, with the experienced Ase Boas combining with back-rower Keven Appo to produce two tries in four minutes as the Hunters bounced to a 14-6 lead.
Another vocal crowd at Bycroft Oval powered the Hunters but a difficult end to the first half caused problems as winger Luke Geary scored in the 35th and 38th minutes to edge the Blackhawks to a half-time lead.
The Mendi Blackhawks also went into today's match on three wins and took confidence from their attack, including tries in the left corner before half-time.
Coach of the Mendi Blackhawks Aaron Payne said he was proud of his teams effort.
"It was pleasing for a lot of reasons, but obviously for the much needed two points," Payne said.
"Our three debutants and Cody Maughan, who hadn't trained with us much, came in and did a good job."
"Our experienced guys were really strong.  Joe Boyce, and Sam Hoare lead from the front and laid a good platform through the middle of the field."
"And Griffin Neame followed by Jordan Kenworthy when he came on the field were also really strong."
"There was plenty of attacking good performances too, things that we had been working on, was the best it has looked all year."
"Defensively for large parts of the game we were really good and had good control of their ruck,"
"We probably let ourselves down in the last ten minutes, but I'd certainly take 60 minutes of footy at the moment as opposed to playing 40 minutes, which we have been doing in some of our previous matches."
"We just need to keep building and working hard, and we still have got a lot of improvements, but there was plenty of positives to take out it."
"It was also the first game in a while we haven't had any injuries."
Kumuls forward Moses Meninga featured for the Blackhawks and joined his former team for a huddle after the match in a special moment of camaraderie.
Townsville head back home and face the Capras.