U21s Mendi Blackhawks Training for Win in Derby Match Against Cutters
Friday, May 14, 2021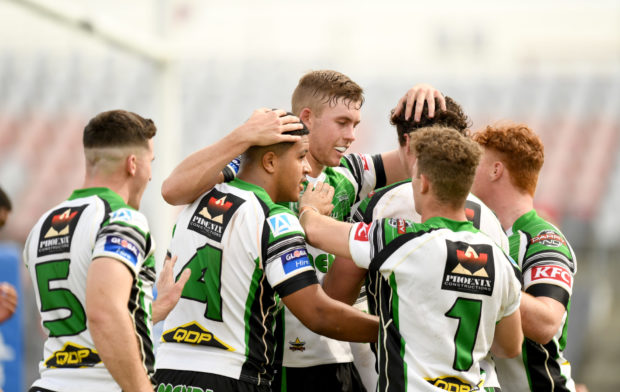 U21 Mendi Blackhawks take on the Mackay Cutters at home this weekend. Photo: Scott Davis / QRL
Lachlan Prince, QRL
Fri 14 May 2021
Mackay Cutters will look to register back-to-back wins this weekend when they take on Townsville Mendi Blackhawks in Round 5 of the Hastings Deering Colts competition at Jack Manski Oval.
Mendi Blackhawks coach David Elliott said despite two narrow losses in two weeks, he was happy with how his side was tracking.
"We are certainly competing the last couple of weeks against some really good sides; Sunshine Coast and Redcliffe," Elliott said.
"While we don't like losing, it is good to know that if we were at our best, we were certainly capable of beating them."
Elliott couldn't discredit the effort and courage his side had showed in the season to date, but called for some more polished performances on both sides of the ball.
"We always pride ourselves on plenty of fight, plenty of defensive resolve and plenty of effort and that has been the trademark style of Mendi Blackhawks footy since entering the competition, but we need to make sure that when it counts, we are taking advantage of opportunities and doing our best defensively to turn teams away," Elliott said.

"At times defensively we are really resolute and turn teams away, but other times our ruck defence is really sloppy like it was on the weekend.
"Whilst times we've got some really classy movements of the ball, other times we are missing opportunities that we need to be taking."
Preparing for a northern derby himself, Elliott said the Cutters were on the rise after a good win against the Falcons, so his team would need to be on their game.
"Up in the north, any time we play the Pride or the Cutters, they are always tightly contested games because both teams really want to beat each other . . . and they'll come up ready to play and looking to beat us at home," Elliott said.
"For us, through the middle third is where we need to be a lot better because if we have a good defensive mindset and defend our line, the points generally seem to flow off the back of that.
"We certainly won't be underestimating the Cutters."
Elliott hoped the rest of his squad could elevate to the level of some of his most consistent performers this season for this weekend.
"Probably our most consistent performer has been Joey Jensen, he's our left edge backrower and doesn't really have a bad game plus he's all effort, very reliable and a smart footy player," Elliott said.
"Certainly, someone who is improving over the last couple of weeks, Hamilton Taia (front rower), he doesn't have a whole lot of experience in the Hastings Deering Colts, but would've played a lot of games last year, but in his last two games against the Falcons and Redcliffe, he was one of our best and most consistent performers.
"I just want to make sure we keep building on their games and get everyone else coming up to the standards those two guys are providing."