U18 Grand Final Preview! Tough Test Has Townsville Primed for Season Decider
Thursday, April 29, 2021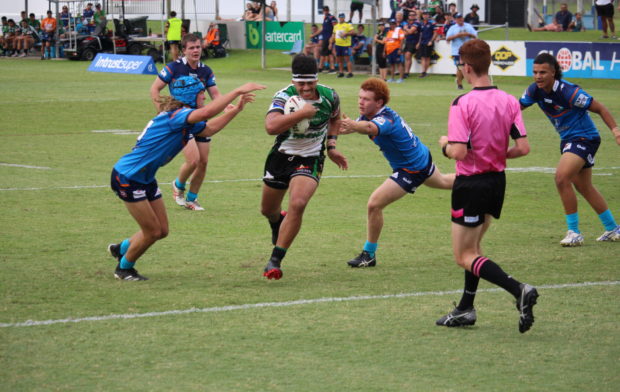 Will Latu will be in action again in the U18s grand final this Saturday. Photo Blackhawks Media
Lachlan Prince, QRL
Thu 29 Apr 2021, 1
A thrilling semi-final win secured Townsville Blackhawks hosting rights to this year's Auswide Bank Mal Meninga Cup decider against Tweed Seagulls.
Mendi Blackhawks coach Stephen Sheppard said his side left it right to the wire, scoring with five minutes to go to clinch a stunning 28-24 victory against a competitive Central Queensland Capras in what was a back-and-forth battle to earn the right to play the Seagulls in the decider.
"[After having some big wins during the regular season] it's a game we needed, we needed to be challenged, we didn't want it to be that close, but we needed a good hit-out just to see where we are at and it was good to see the boys respond and get over the top of them in the end," Sheppard said.
"It was an exciting game, we wanted to start fast, put on a few tries back-to-back and put a bit of scoreboard pressure on, but unfortunately, we didn't do that and let them back in.
"But I thought the Capras played well, they scored some nice tries and then they just played the field position game and kicked well to the corners and we had to earn the win."
While pleased with the win, Sheppard admitted it was far from their most complete performance and there would be plenty to work on for grand final week.
"When you coach under 18s, it's important you keep the confidence in them and get them to back themselves as much as they can, but I thought we played a little bit dumb towards the back end of the half," Sheppard said.
"I thought we could've managed the game a little bit better and played smarter by kicking into their corners and making them bring it out [of their own end].
"Apart from that, our defence was probably a little bit off where it needed to be, and we will work hard on that this week."
Sheppard said this season's success so far was a culmination of a lot of things, particularly the assistance of the Townsville schools and the development of the players in last year's under 17s.
"We've got a healthy athletic development program in the schools up here, so we let the schools take charge of that and then at the start of this year, we got together and focused more on footy content," Sheppard said.
"I went and watched a number of games in the under 17s season towards the end of last year to get a gauge on who was in the age group and then we had an open trial in November last year where we picked a 25-man squad and we've kept that 25-man squad the whole way through."
Despite the scoreboard and the results indicating offensive dominance, Sheppard said he was most proud of the Mendi Blackhawks' defence and development throughout the regular season.
"The Cutters and Pride… have got a bit of footy about them, they try really hard and have plenty of ticker, so the most pleasing thing was the way we defended and getting our shutouts.
"A lot of these boys, I haven't had anything to do with before I got here, but from where they were at the start of the year compared to now, I think their footy has improved and the Mendi Blackhawks should be accountable for that."
Heading into the grand final this weekend, Sheppard called for the Blackhawks to stick to their processes that had got them so far in the 2021 season to date.
"Our Mendi Blackhawks mentality is about competing, attitude and brotherhood and if we tick those three boxes, we will certainly be there in the end," Sheppard said.
"But Tweed are a quality side and played really well on the weekend.
"They're well organised, got plenty of footy about them and have good defensive structures so we just need to make sure we worry about us and make sure we do the basics and make our tackles."
If the Mendi Blackhawks were to win the final and become Auswide Bank Mal Meninga Cup champions on the weekend, Sheppard said his key players would have had their fingerprints all over the game.
"Like any coach, you hope it's going to be a good team performance, but I think grand finals are going to be won somewhere in that spine, so we will be looking for a big game from our one [Ragarive Wavik], six [Harley Taylor], seven [Thomas Duffy] and 9 [Tyreice Baira-Gela]," Sheppard said.
The game will be broadcast live and free on QRL.com.au, the Intrust Super Cup app and on the QRL Facebook page.