Falcons Bounce Back with Gritty Win over Mendi Blackhawks
Tuesday, April 27, 2021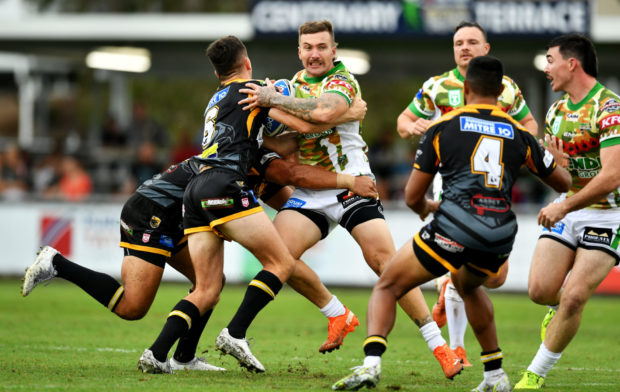 Sunshine Coast Falcons have defeated the Mendi Blackhawks in round 5 of the Intrust Super Cup. Photo Alix Sweeney
BLACKHAWKS MEDIA
Sunshine Coast Falcons have defeated the Mendi Townsville Blackhawks 24-16 in a tough uncompromising encounter at Jack Manski Oval.
Following a moving Anzac Day Ceremony on field, both teams threw themselves into the battle with neither team giving an inch early on, with Mendi Blackhawks controlling territory.
However, it was Sunshine Coast who struck first with fullback Matthew Milson scoring in the 13th minute, the Todd Murphy conversion giving the visitors an early lead.
A Shaun Nona grubber kick was pounced on by Nathan Barrett in the 28th minute, with the Nona conversion levelling up the score.
In the 33rd minute the referee deemed that contact from Griffin Neame was late on the kicker and Murphy slotted the ensuing penalty to give the Falcons an 8-6 lead at halftime.
Milson was in the action again in the 45th minute giving a classy pass to BJ Aufaga-Toomaga to score in the corner. Murphy kicked the goal from the sideline to give the Falcons momentum and an 8-point break.
Nona was involved again, throwing a cut out pass to Carlin Anderson to score the try and reduce the deficit to four.
Nat McGavin increased the lead of the Falcons in the 63rd minute when he scored following a kick from Aufaga-Toomaga who somehow got his foot to the ball despite the attention of numerous Blackhawks defenders. This left the score 18-10.
Milson put the result beyond doubt after he latched on to an inside ball from Cooper Johns in the 75th minute. Following the conversion from Murphy the Falcons had an unassailable lead.
Nathan Barrett crossed for a double in the 78th minute, converted by Nona but the game had gone.
Mendi Blackhawks coach Aaron Payne lamented his teams lack of execution." I cannot fault the effort of the team, they are trying exceptionally hard, but we need to improve our execution".
Earlier Results:
The Hastings Deering Colts U21s: Mendi Blackhawks 10 Sunshine Coast Falcons 12