Mendi Blackhawks U18s Pip Capras in Thrilling Semi Final
Sunday, April 25, 2021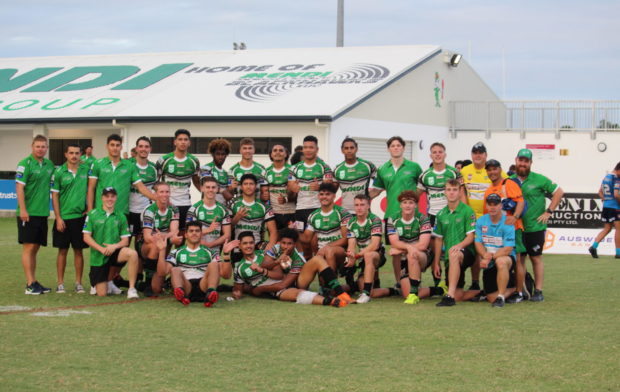 The Mendi Blackhawks U18s are off the GF next Saturday against Tweed Seagulls.  Photo Blackhawks Media
Colleen Edwards, QRL Content Producer
Sat 24 Apr 2021
Townsville Mendi Blackhawks are into the 2021 Auswide Bank Mal Meninga Cup grand final after overcoming a tough challenge against Central Queensland Capras at BMD Kougari Oval.
It was an end-to-end affair with the result in the balance until the final moments and a fitting showcase of the skills of two teams that went through the regular season undefeated.
Winning Mendi Blackhawks coach Steve Shepperd said it was a good challenge for his team leading up to next weekend's grand final where they will meet a Tweed Seagulls side that impressed in their victory over Wynnum Manly Seagulls earlier in the day.
"That was a bit nerve-wracking," Shepperd said. "The Capras played really well – they looked like they wanted it a bit more than us in that first half, and they played a really good field position game and we had to work really hard for our points, so it was a good test.
"We thought they would keep coming in attack, and we thought we could break them down in our attack, but I thought they defended well… we had to work out from out from our end of the field, we had to work for our points.
"They (the Blackhawks players) were challenged, that's what I said to them 'you were challenged, and you found a way, and that's what good sides do' – but we have to be better defensively.
"Discipline, that is certainly something (we have to work on as well for next week) … discipline and ball control, and I thought our defence was probably not where it has been."
The match started well for the Mendi Blackhawks, with strong second rower William Latu scoring an impressive try where he beat multiple defenders before reaching to score the opening try of the match.
Fullback Ragarive Wavik, who was impressive all game, then scored a quickfire double to get the Blackhawks out to an imposing lead.
However, the team did not do Thomas Duffy any favours with the put-downs, with the halfback struggling to convert from out wide to keep the door open for the Capras who grabbed the chance with two hands.
Capras winger Kalani Sing got his team on the board in the 24th minute and halfback Peyton Jenkins, who worked hard all game and sparked a lot of the attack, converted the try.
He backed up that important kick soon after, converting his own try as half-time was approaching to lock scores in a tight game at the break 12-12.
The Capras were the first to strike in the second half, with centre Elekana Suavai powering his way over the line for the first of his two tries.
That was then met by a response from D'Jazirhae Pua'avase from the Blackhawks who ran in for a simple try after taking the tap, 20 metres out from the try line.
While Suavai was able to cross once more to keep the game close, the Blackhawks ran in two more tries from Maverick Pegoraro and match-winner Jordan Davies, who was on the end of a superb Duffy pass to claim the win.
Next week, the match will be played at Jack Manski Oval, with the Mendi Blackhawks set to have a vocal home crowd supporting them, with Shepperd hoping his team can soak in the atmosphere.
"It is (exciting), they are kids and they feed off energy and enthusiasm and confidence, so we will try to keep a lid on it as much as we can, but I don't want to dampen the situation, I want them to enjoy it," Shepperd said.
"There was a lot of parents come down (to BMD Kougari Oval to support), it was good, and that's right, we have got a home final, so that will be very good."
The grand final will be played at Jack Manski Oval next Saturday at 1pm.