Watch Live: Undefeated U18s Mendi Blackhawks and Capras Face Off in Ultimate Test
Thursday, April 22, 2021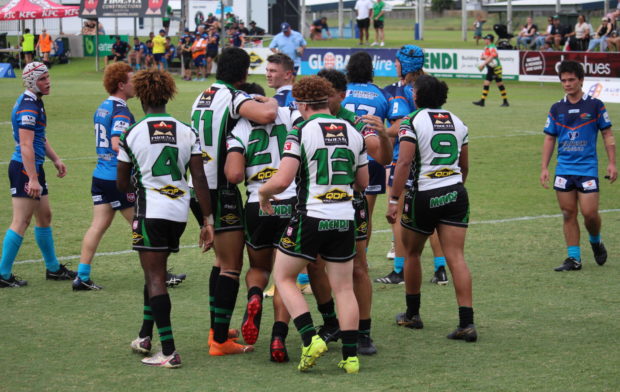 The Mendi Blackhawks and CQ Capras go head to head this Saturday for a spot in the grand final.  Photo Blackhawks Media
Lachlan Prince, QRL Website
Thu 22 Apr 2021
A spot in the Auswide Bank Mal Meninga Cup grand final is up for grabs when two undefeated sides in the Central Queensland Capras and Townsville Mendi Blackhawks come face-to-face this Saturday.
Central Queensland Capras coach Kane Hardy said there had been a lot of work put into the team's success so far this season and his side was hungry for the win.
"The bonding of the team has gotten us to where we are today," Hardy said.
"They boys have all come together, they've bought in to what it means to represent the Capras jersey and the proud culture that comes with it.
"Finals footy is a rare thing, and some of them may never experience it again, so they are really excited to give it their best shot."
Townsville Mendi Blackhawks coach Stephen Sheppard said the strength of his side during the regular season meant nothing, with finals footy being an entirely different beast, especially against the likes of the Capras.
"I have had a quick look at the Capras, and they look like a well-organised side who can play some handy footy, so we are going to have to play well," Sheppard said.
"They look like the run the ball nice and hard and tackle hard, so we need to match them in those areas.
"They are also quite smart around that dummy half area, so we will need to complete our tackles and make sure we keep their number nine [Jai Hansen] quiet."
Hardy said they were wary of the high-quality Mendi Blackhawks outfit and loved being the underdog in high pressure games.
"People said we weren't even going to make it and here we are," Hardy said.
"The Blackhawks side have got strike power everywhere, from 1-17 and if we don't complete sets and turn over the poor cheaply, they'll put the foot on the accelerator and fly straight past us.
"We just need to worry about us, we've got nothing to lose."
Sheppard said their defence had been their highlight throughout the whole season, but he was calling for better ball control leading into this weekend's clash.
"To have three shutouts out of four games is really good and I love the way our boys work hard for each other and apply plenty of pressure defensively," Sheppard said.
"We do play an entertaining style of footy, but we can certainly be better at our catch-and-pass, so that will be a focus for this week."
Hardy said whatever the Blackhawks threw at his side this weekend, he was confident they would be able to hold them out.
"I back the defence of our boys 100 per cent, we've gotten to where we are now on the back of that and I expect that this weekend it will be no different," Hardy said.
Sheppard praised the collective effort of his squad, but said some integral players could prove the difference.
"Without singling out too many people, our hooker Tyriece Baira-Gela will be looking for a big game and our forward pack will be looking to dominate," Sheppard said.
Hardy not only called for his key players to stand up for the weekend's clash, but for the whole squad to be ready to put it all on the line.
"Overall, it's been our whole squad who have gotten us to where we are now," Hardy said.
"Jai Hansen, our captain and hooker and our young front rower Tomas Powell have been instrumental for us.
"Jai is a great kid with a big future ahead and has been a leader for us, not so much with his words, but with his actions and the way he is playing on the field."
The Capras and Blackhawks face off in the second of the weekend's two semi-final matches at BMD Kougari Oval, with Wynnum Manly Seagulls and Tweed Seagulls also battling it out for a spot in the grand final from 1.30pm.
The game will be lived streamed from the www.qrl.com.au or the QRL Facebook page.