Round 4 Match Report
Monday, April 19, 2021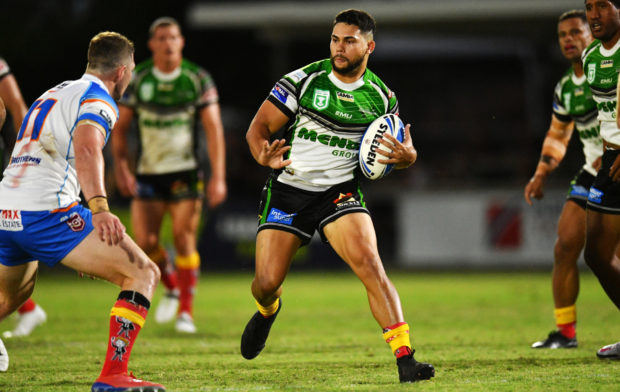 Kalifa Faifai-Loa scoring one of his trademark flying tries scores for the Mendi Blackhawks.  Photo Alix Sweeney
BLACKHAWKS MEDIA
There is always something special about local derbies, and the Mendi Blackhawks versus Northern Pride Round 4 Intrust Super Cup game did not disappoint.
Both feeder teams for the North Queensland Cowboys, both looking to bounce back after previous round losses.
From the outset there was a sense of anticipation from the local crowd as they looked towards some exciting matchups between the two teams.
Kyle Laybutt versus Jake Clifford in the halves, and the strong and impressive young Cowboys allocated forwards Tom Gilbert, Griffin Neame and Riley Price for the Mendi Blackhawks, and Peter Hola, Heilum Luki and Ieremia Nanai for the Pride.
In a game that had everything, the Pride sealed the win 30-26 when Bernard Lewis scored in the 78th minute, following a wonderful long cut out pass from halfback Tom Steadman.
The lead changed hands six times during the night with both teams seemingly in control at different times, only to see the other fight back in a classic derby.
It was the Mendi Blackhawks who started the better, with tries to Kalifa Faifai-Loa and Esan Marsters in the first 15 minutes to lead 10-0 and looking the better of the two sides.
On his return from injury, Javid Bowen scored for the Pride in the 30th minute, followed by Josh Stuckey in the 38th minute, giving the Pride momentum at the break with a 12-10 lead.
Marsters scored in the 48th minute, getting his second double in as many weeks as the Mendi Blackhawks edged ahead 14-12, before Shaun Nona scored a wonderful solo try to extend the lead to eight points.
However, just as the Mendi Blackhawks appeared to be getting the ascendency, the Pride hit back through tries to Clifford and Hola, putting the Pride in front 24-20 with 18 minutes remaining.
With the clock running down, the Mendi Blackhawks were under-manned with only one player left on the interchange bench, but hit the lead with six minutes left after Josh Chudleigh went over with a great individual try from dummy half putting the Mendi Blackhawks ahead 26-24.
The Pride pushed forward, and received a penalty with three minutes left, with everyone expecting them to level the scores with the kick right in front and only 25 metres out. The Pride declined the shot on offer and went all out for the win.
One minute later Steadman found Lewis and fortune had favoured the brave.
Clifford nailed the conversion from the sideline to rub salt into the wounds of the dejected Blackhawks, who had been courageous to the end.
All at the ground will be counting the days until the next clash between these two great rivals.
The Mendi Blackhawks will take on Sunshine Coast Falcons.